Ph.D., University of California, Berkeley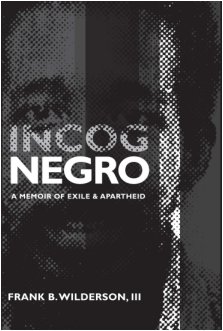 A. B. Dartmouth College (Government/Philosophy); MFA Columbia University (Fiction Writing); Ph.D. University of California, Berkeley (Rhetoric/Film Studies). His work explores cinema's formal and narrative "awareness" of political ontology by bringing two disparate modes of representation into conversation with one another: (1) the cinema of Red, White, and Black directors and (2) three traditions of epistemological reflection: Humanism (feminism, Marxism, psychoanalysis); Indigenism (meditations on sovereignty and genocide); and Social Death (meditations on the accumulation and fungibility of Black bodies).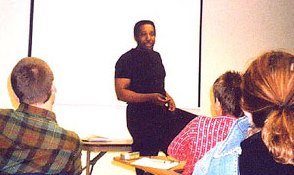 Frank working with students
He has worked as an institutional dramaturge for Lincoln Center Theater's productions of Zora Neale Hurston and Langston Hughes's Mule Boneand Mbongeni Ngema's Township Fever; and as a creative dramaturge for the Market Theater in Johannesburg's production of George C. Wolfe'sThe Colored Museum.
He is the recipient of The National Endowment for the Arts Fellowship; The Alexander von Humboldt Fellowship for Experienced Researchers; and The American Book Award; The Eisner Prize for Creative Achievement of the Highest Order; The Judith Stronach Award for Poetry; The Crothers Short Story Award; The Jerome Foundation Artists and Writers Award; The Loft-McKnight Award for Best Prose in the State of Minnesota; and The Maya Angelou Award for Best Fiction Portraying the Black Experience in America.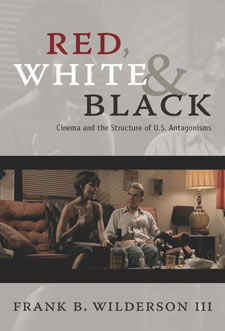 His scholarly and creative writing have been published inSocial Identities; Social Justice; Les Temps Modernes; Konch;Callaloo; Obsidian II; Paris Transcontinental; and The Yardbird Press Anthology. He is directing Reparations…Now, a critical documentary (digital film) that captures the terror of unnamable loss shouldered by today's descendents of slaves. His books include: a memoir, Incognegro (South End Press); and Red, White, & Black: Cinema and the Structure of U.S. Antagonisms (Duke University Press).