Frequently-Asked Questions
Almost, but not quite. UCI's graduate acting program is a highly demanding, three-year curriculum that trains its actors for all three years (more about this in a moment). This training is centered on a core curriculum - in acting (for both stage and camera), voice, speech, and movement - held Monday through Thursday from 10:00 am to 3:00 pm for all nine quarters of residence. In its rigor and professional standards, therefore, UCI's program functions as a conservatory, but we also take the Master of Fine Arts degree seriously, and therefore our program also includes seminars in script analysis, acting theory, acting pedagogy and in dramatic theory or criticism. Actors may also take elective master acting classes in specific subjects such as singing, audition techniques, clowning, musical theatre, film and television acting, and specific acting styles or the work of particular acting theorists. There are also opportunities to take courses in the Dance Department.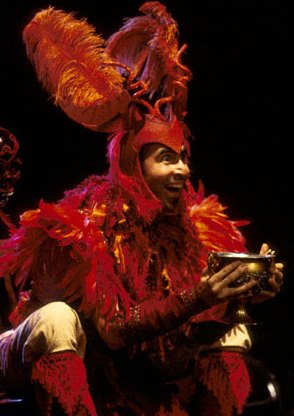 Pedro Gynt, 2004

2. What is a UCI actor like? Does UCI teach a particular system of acting?
Throughout the years, we've heard again and again from casting directors, agents, and directors that UCI actors, while thoroughly trained and wonderfully skilled, stand out particularly for their individuality. They are themselves. We do not believe in producing actors who bear the stamp of their training so vividly that they display their training rather than the personal truth of the actor/character they play on stage. We certainly have a great deal to teach and we make great demands on the actors who study with us, but we care about what each actor brings to the table. Everything we do at UCI is designed to enhance and support our actors' gifts, not replace them. Our curriculum is not based on a single, narrowly-defined view of the acting process, nor is the graduate actor at the mercy of a single acting teacher's evaluation. Of course, UCI's acting faculty includes several who could very well be the gurus of self-enclosed acting systems (in fact, many are considered such outside of UCI). But within the program, the faculty works very closely as a team, with profound respect for, and regular consultation with, each other and with the students. We have a clear vision of what an actor today needs to know and be able to do; we accomplish this with a variety of process experiences introduced in a coherent system of pedagogy.
 
3. What is the arc of training in acting, voice, speech, and movement?
Acting:

First Year
Your first quarter, taught by Richard Brestoff, focuses on the truthful connection to yourself and to your partner using text. The goal is to deepen and extend the expressive range of each individual actor. This means exploring emotional areas both within and beyond your usual comfort zones and interacting spontaneously to your scene partner without pre-conceived ideas, artifice or manipulation. In this quarter the focus is on listening and responding and not on the role. In the second quarter the focus shifts to work on the part itself through various methods of scene analysis so that connection to circumstance and character is added to connection to self and connection to scene partner. In sum, the first quarter is about you, the second quarter is about the role. The third quarter, with Eli Simon, focuses the work of the first two quarters in specific action-based scenes that merge personalization with character objectives.

Second Year
The first and second quarter of the second year is spent with Robert Cohen, where you receive a dynamic vocabulary of skills in action-based acting which uses not only naturalistic material, but also explores particular acting tasks in Shakespeare, Shaw, and Chekhov. Running concurrently during these two quarters are two additional acting courses: Simon's course in physical/vocal comedy skills, clowning, commedia, and characterization using several sets of masks; and Brestoff's acting for film and television. The third quarter acting course was developed by Bill Rauch and focuses on the devising and performance of community-based theatre.

Third Year
The third year's core classes in acting are focused on professional preparation. The first quarter is a professional orientation course designed to prepare students for Showcase as well as the practicalities of launching and maintaining a meaningful artistic career. The primary focus of the class is on cold reading or, as we call it, "instant craft." We bring in industry professionals, such as agents, casting directors and managers who conduct cold reading workshops and answer questions about their various fields. In the second quarter of the third year we select scenes for Showcase. These scenes are carefully chosen and shaped so that each actor will excel in them. It is our belief that the process of finding material that showcases you uniquely can deepen your sense of ownership of your artistic self, enabling you to enter the field with a sense of confident self awareness. In early Spring, we present these scenes to vice-presidents of casting at the major studios, managers, agents and other casting directors in both Los Angeles and New York. After Showcase, actors are mentored by professionals on both coasts with guidance in the process of choosing an agent and/or a manager and other post-Showcase issues.

Voice and Speech:

These are taught as separate courses throughout all nine quarters, but are very closely integrated with one another. The two voice production and speech specialists on the faculty, Phil Thompson and Cynthia Bassham, teach in both areas. The voice production work has its theoretical and practical basis in the bioenergetics-based work of Catherine Fitzmaurice. In addition we use a variety of techniques, including the centering and release work of Iris Warren and Kristin Linklater. Our approach to speech training was developed here at UCI by Philip Thompson and Dudley Knight.

All of our work in Voice and Speech is aimed toward training artistic skill. This requires both knowledge and sensitivity. The student actor must come to an intellectual and practical understanding of the actor's technique but they must use that technique in the service of a sophisticated aesthetic sensibility. At every point in the training we work to develop both of these qualities. We work to bring students to a practical awareness of the way they use themselves as actors: working toward greater physical freedom and relaxation; increased breath capacity and control; more effective resonance; increased pitch range; and greater articulatory agility.

The first year in voice production is largely exercise oriented, focusing on the individual components of the voice production process for actors. Throughout the next two years the work becomes increasingly fused with text and with specific vocal acting tasks.

In speech, the work begins with a close study of vocal anatomy and physiology. It continues to a very full study of phonetics based on a much more linguistic model than is usually taught in speech courses; the emphasis is on the physical awareness and experience of sound distinction and the ability to discern subtle changes in vocal articulated sound using sounds that are found in many languages other than English. All of this work, which continues through the first year, is descriptive - not prescriptive. Only at the start of the second year do actors begin their dialect study with a consideration of a standard speech, and the pattern, which we prefer to call a detail model, is a thoroughly American construct, differing considerably from the (in our view) antiquated mid-Atlantic or Skinner model. Study of other dialects begins in the winter quarter of the second year, and continues into the third year. The final two quarters of speech study are devoted to individual projects and problems.

Movement:

The first two quarters of stage movement with Annie Loui consist of a basic vocabulary of physical action. This frees actors from old habits and held tensions, giving them a strong, flexible, and aligned physical instrument. Professor Loui's approach is unique, yet shaped from a number of disparate influences - Tomashevski and Decroux mime, classical and modern dance, and martial arts, to name a few. Extended work in contact improvisation hones the actor's physical instincts, balance and control, and the ability to actively and honestly engage with a partner. The third quarter is a "mega-class" with graduate actors working on musical theatre dance with a professional choreographer from the musical theater field. In the second year, actors work on period movement and dance, with an emphasis on Elizabethan court dances, and begin an intensive study of martial arts based on principles of harmony, balance, and "ki". The third year continues with an exploration of Michael Chekhov's physical characterization and active individualized processing. Graduate actors are also required to work out in the fully equipped UCI gym a minimum of two times per week. Graduate actors also have access to many of the courses in the Dance Department.

The Lady's Not for Burning, 2003
 
4. Does UCI's Drama faculty work professionally?
Yes. All of us. UCI Drama faculty regularly either direct, perform, design, voice/ text/ dialect coach, stage manage, or artistic direct in professional theatres, on film sets, and in TV studios. And whereas we are all active professionals, we are all in residence at UCI, deeply committed to our students and their progress within the program.
 
5. What is a typical day like at UCI?
Suppose you are a second or third year actor with a Teaching Assistantship (teaching Drama 30, the beginning undergraduate acting course) and you're also in a production. Your day begins at 8:00 am, teaching your undergraduate class. At 10:00 all graduate actors meet for Voice/Movement Dynamics: a fifty-minute vocal and physical warm-up taught by Professors Thompson, Bassham, and Loui. The rest of your core day, until 3:00 pm, consists of core acting, voice, speech, and movement classes. From 3:00 to 5:00 you take a master acting class or a seminar. From 6:00 to 10:00 pm you are likely in rehearsal. The core classes, as I have mentioned, meet Monday through Thursday. Fridays are devoted to elective courses such as Professional Techniques, singing, and acting for the camera. Rehearsals are also held on Saturdays. Sunday is a designated "Day Off," except during tech week.
6. Do you teach film and television acting?
Yes we do. Richard Brestoff heads this division of study. Core and elective courses include single camera film acting; multi-camera soap and sit-com techniques; commercial acting; as well as marketing and auditioning for film and television. Over the past several years, more than two dozen film and TV industry professionals have been brought to UCI Drama for seminars during regularly scheduled classes.
7. What about production at UCI?
The focus of actor training at UCI is the training itself; actors in classes do a tremendous amount of performance. Participation in full productions, however, is a crucial part of the process. There are three faculty directed productions per year, four productions directed by graduate directors, and eight to ten workshop productions that also receive departmental support.
8. How does casting work at UCI?
Graduate actors at UCI are required to complete six performance projects during their three years in the program. Of course you may act much more frequently than that. All casting is absolutely open and without regard to ethnicity or national origin. Actors may participate in all levels of production at the start of the first year ; you are not held from casting for a semester or two, as in many programs. UCI Drama's casting policies strive for reasonable role parity among graduate actors. In order to ensure fairness, the entire season is cast at the beginning of the academic year. This also enables our actors to project their workload throughout the year, on a quarter-by-quarter, show-by-show basis.
9. Are there professional internships available?
The acting program at UCI does not set aside the third year specifically for internships with outside companies as some programs do. In our experience, such required internships rarely serve the intern well and eliminate a crucial year of training. Instead our internships work as follows: when roles are available at one of our affiliate professional theatres, the casting director calls in the appropriate actors from UCI to audition for the director. Internships take place during the actor's third year, and the actor is released from those classes that conflict with rehearsals. Actors may accumulate Equity points for appearances in professional productions, and are paid as non-Equity actors when they do so. To date, many of our graduate actors have appeared in roles of substance and continue their professional affiliations after graduation.

10. What other professional opportunities are available through UCI?
Actors not only work in productions on campus, they also work during the summer. UCI hosts several Shakespeare festivals and other summer theatre auditions on campus from November-March each year. These include Colorado Shakespeare Festival, Utah Shakespearean Festival, Illinois Shakespeare Festival, California Shakespeare Festival, Pacific Conservatory of Performing Arts, Shakespeare Santa Cruz, etc.
11. Do you have a showcase for graduating actors?
Yes, we do, and it is a highlight of the graduate actor training program. Our annual showcase for third-year graduate actors is completely funded by a generous bequest. It is presented in partnership with Harvard, American Repertory Theatre both in Los Angeles and in New York before an audience of agents, casting directors, and artistic directors of regional theatres. UCI's showcase is generally considered to be one of the very best in the country and generates hundreds of agent requests for interviews with our UCI actors. Our recent graduate actors have signed with major agencies in Los Angeles, New York, or both.
12. Do you offer financial support?
UCI Drama is able to provide several forms of fellowship aid aside from the usual loans. For non-Californian actors, we provide departmental fellowships that cover out-of-state tuition. We also cover in-state fees for the first year. Diversity fellowships may be available for members of underrepresented groups in the arts. Teaching Assistantships are available for second and third year actors to teach the beginning undergraduate acting and other courses within the department. Actors also serve as Assistants to the Head of Acting, manage on-campus audience development and outreach to local high schools, and assist with faculty research.
13. What do you look for in a graduate actor and how can I best prepare my
audition for UCI?
In a nutshell: we look for actors who are exceptionally talented and trainable, have strong professional aspirations, the potential for a meaningful artistic career, and are, above all, willing students and collaborative artists. Regarding your audition: there is no way to manufacture your talent or your basic theatrical instincts. Concentrate instead on preparing your audition so that your pieces reveal your theatrical imagination in the best possible light. Here are some tangible suggestions for your audition for UC Irvine:

Choose material which is well suited to you and which you are passionate to present.
Avoid repeating unnecessary actions - create a concise, powerful package.
Really choose two contrasting pieces. For example, one comic and one serious. Or one powerful and one light.
Avoid screaming and whispering - find and use your middle range.
Access vulnerability and humor wherever possible.
Sing if you can sing.
Feel free to move about and use simple props.
Do not direct the monologues at us.
Stay relaxed and focused - enjoy your performance.

14. Finally, what is the best thing about the UCI Graduate Acting Program?
At last, a question that's easy to answer: the UCI graduate actors. UCI's Drama Department has an extraordinarily distinguished faculty, a well-planned and effective curriculum, and excellent production facilities. But the most important single element of your experience in any graduate training program is your colleagues. The graduate acting program at UCI is supportive of our actors and their individual growth.Our standards are high: strong work is the minimum expectation. If actors do not meet our standards, they are asked to leave. But UCI does not plan any attrition into its graduate recruiting. There is no "Black Monday" at the end of the first or second year where actors discover whether they have been accepted back into the next year. Such a policy, in our view, creates a destructively competitive atmosphere that impedes the training process. The "cut" at UCI is the admission process: as Head of Acting, I see six to seven hundred actors around the country. I accept eight to ten actors into the program. Because of this arduous admissions ratio, you are in the company of some of the very best young actors in the country. These actors will challenge you with their high level of ability and expect you to challenge them as well.