MFA in Costume Design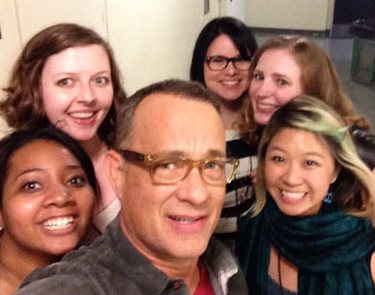 Leanna Moore, Kaitlyn Kaufman, Julie Carr, Sera Bourgeau, & JoJo Siu. Students assisted Holly Poe Durbin, costume designer for the show, Simply Shakespeare, starring Tom Hanks.
Read an interview with Rebecca Meredith, MFA '12, Resident Costume Designer for Sierra Repertory Theatre.
Click here to see what our alumni are doing!
Click here to read an interview with Holly Poe Durbin about looking for graduate programs.
The 2015 Costume Design Bridge Project
The Costume Design Program announces that Poppy Cannon-Reese is a Guest Artist in the MFA program in Spring, 2015.  Ms. Cannon-Reese is the Manager of Universal Studios Costume Department; she also has a distinguished career as a Costume Designer and Stylist for feature films and commercials.
The Costume Design Bridge Project connects current MFA students to accomplished professionals in all aspects of the entertainment industry.  Each Guest Artist creates and leads a design project addressing current practices or challenges in their field.
Students learn how to use professional resources, create effective communication for a creative team and discover the high expectations of real world costume design projects.  Each student receives professional level feedback modeled on contemporary designers, directors and producers.  As part of the Bridge Project, students venture out of the campus environment to work in real- world locations, such as the Universal Studios back lot.
Introduction
The goal of the MFA Program in Costume Design is to develop professional artists for the next generation. Ours is not a program with a single-minded approach. Practical professional training is designed to expose students to all theatre-related performance and entertainment fields, including stage, musical theatre, opera, film, dance, television, theme park, and special event design. UCIrvine's close proximity to Los Angeles provides a vast choice of costume materials, supplies, rental houses, and research venues, as well as career connections for the future.
The program prepares graduates for employment as professional artists by emphasizing the concept of costume design as a fine art. Areas of study include drama as literature and as a performed art, reflective and digital presentation, costume history, and technique studies in masks, millinery, and fabric modification. We strive to teach our students to see with "the eye of the mind" and use creative imagination to render passion into reality, bringing life to characters and stories with color and style as well as cultural and historical sensitivity. Only six students are admitted to the program, two per year, to provide them with individualized attention and support.
Classroom experiences cultivate intellect and imagination by exposing students to a wide variety of subjects and skills. Download a list of our MFA Costume Design Classes. This document lists all available courses; some are electives. Students may choose elective courses to broaden their skills or to create an emphasis of experience. The program includes professional guest artists for seminars, lectures, and critiques.
Students engage in active learning through academic theatre productions as a costume designer. The mentor for each produced project assists students as they make the transition from conceptual work to practical application.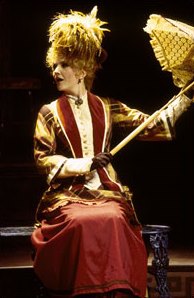 Portrait of a Lady, 2004
Each graduate student designs two to three fully supported main stage productions and many other opportunities such as workshops, dance thesis projects and directing projects during their three-year residency in the program. Budgets, construction, humanistic studies, familiarity with contemporary practices, the "business" of professional costume design, and career transitioning are addressed in four ways:
Design Theory Studio and Hands-on Design Skills Classes
Industry Field Trips - Behind-the-scenes visits to entertainment venues and vendors such as Disneyland Entertainment Costumes, Center Theater Group Costume Shop, LA Opera Costumes, Knotts Berry Farm Costume Shop, exclusive Curator Tours of museum exhibitions and libraries, studio visits, artists studios and others
Possible internships in the Industry, including Western Costume Company Research Library, Mark Taper Forum Costume Shop, South Coast Repertory Theater and others
Participation in Design Showcase West for qualified third year MFA students
Award-winning professional faculty member Holly Poe Durbin leads studies in the area of costume design. With over 25 years of professional work behind her, she shares her professional experiences with the students. Students witness the high level of expectation that she holds for her work and learn to set their own high standards.
Application to the Costume Design MFA program is a three-step process.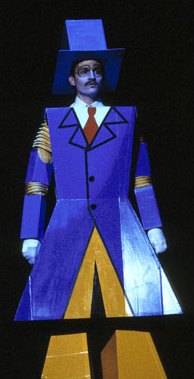 War to End War, 2004
Complete an online application to the university. Please see the Apply Tab at the top of this page for appropriate links. The application deadline is Feb 1st.  For those interviewing through the U/RTA auditions and portfolio review process, please email Holly Poe Durbin, hdurbin@uci.edu, before Jan 20th to indicate you will attend and would like to be considered for an interview..
Send your resume, a copy of your portfolio (physical copy, CD or online link) and a cover letter to the Drama Dept. Please note the university application does not provide an upload function for your portfolio, so this must be sent directly to the Drama Department with a cover letter expressing your area of interest. Portfolios will not be returned.
An interview and portfolio review. After reviewing a portfolio and resume, qualified students will be invited for an interview in person or online. This interview will include your original portfolio.
For a more thorough discussion of the application process and what we look for in a portfolio, please download and review the Costume MFA Process.
You may view our Costume Design MFA Website. This site is the official Costume MFA Program Handbook.