Dr. Jaye Austin Williams - Chancellor's Post-Doctoral Fellow
The Drama Department is proud to announce that Dr. Jaye Austin Williams is the 2014-15 Chancellor's Post-Doctoral Fellowship Recipient in Drama
Chancellor's ADVANCE Postdoctoral Fellowship Research Topic:
Situating the Black Feminist Dramatic Perspective within the Discourse on Diversity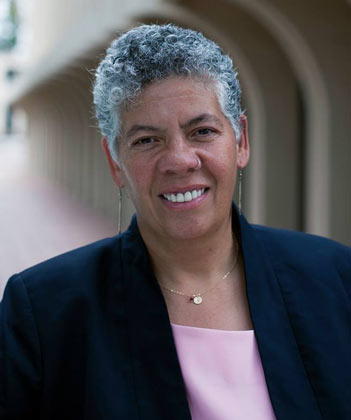 Mentor:
Professor Daniel Gary Busby 
Jaye Austin Williams received her Ph.D. in Drama and Theatre at UC Irvine in 2013 (a joint program with UC San Diego) and her M.F.A. in Dramatic Writing at NYU's Tisch School of the Arts in 2008.  Jaye has directed two main stage theatre productions at UCI: The Colored Museum, by George C. Wolfe, in 2011; and The Trial of Dedan Kimathi, by Ngũgĩ wa Thĩongo and Mĩcere Mũgo, in 2014.  As part of her postdoctoral term, Jaye will direct her third production here at UCI: Naomi Wallace's The Liquid Plain, in winter, 2015.  She will also travel and conduct research for an article examining the notion of "Diversity" and the intricate nuances attendant to its implementation, as well as for her upcoming critical anthology on playwright Kia Corthron.  While a doctoral student, Jaye was the recipient of the Graduate Division's Faculty Mentor Diversity Fellowship, and the Peterson Community Spirit Scholarship.  She was selected as the student Commencement speaker at the Graduate Hooding Ceremony in 2013.  At NYU, she was awarded the Dalio Family Foundation Scholarship, and both the Certificate of Merit and the Lorraine Hansberry Distinguished Achievement in Playwriting, from the Kennedy Center American College Theatre Festival.
Prior to pursuing her graduate education, Jaye worked in the professional theatre from the late 1970s, right up until she began her graduate studies at NYU in 2006.  Originally a percussionist, and while a music major at Skidmore College, Jaye was commissioned to compose a score for an environmental staging of Jean Paul Sartre's adaptation of Euripides' The Trojan Women.  She composed and performed the score, and, to her own surprise, changed her major to theatre during her junior year.  In 1978, she directed Arthur Kopit's Chamber Music at the legendary Café Lena's in Saratoga Springs, with a collection of her fellow Skidmore alums.  Later, she worked with Pat Reagan's The Disabled Women's Theatre Project in Albany, New York, and eventually made her way back to New York City, where she grew up.  Throughout the 1980s, 1990s and early 2000s, Jaye worked as an actor, playwright and director; directing productions at the Long Wharf, Hangar Theatre; the Immigrants Theatre Project; National Theatre of the Deaf, and Onyx Theatre – a company devoted to producing works by and for Deaf and hard-of-hearing people of Color, founded by Michelle Banks – where Jaye served as resident director for seven years.  She also worked as an American Sign Language (ASL) director and advisor on and off-Broadway – for the Theatre Development Fund and Hands On, on productions such as Emily Mann's Having Our Say (marking the first time in Broadway's history that the ASL interpreters were Deaf); August Wilson's Fences and The Piano Lesson; the musicals Black and Blue and Fats Waller's Ain't Misbehavin', and several productions at the New Victory Theatre, and the New York Shakespeare Festival's Shakespeare in the Park, among others.  Jaye has directed two regional premieres of Pulitzer Prize-winning plays: David Auburne's Proof; and Suzan-Lori Parks' Topdog, Underdog; as well as Shay Youngblood's Talking Bones, at Cleveland's landmark Karamu Theatre (the oldest Black Theatre in the country.  She has received numerous fellowships and awards, including the National Endowment for the Arts and Theatre Communications Group Directors Fellowship; and a Van Lier playwriting fellowship at the Manhattan Theatre Club.  Her critically-acclaimed performance of Suzan-Lori Parks' rarely produced one woman play, Pickling, has been seen at Joe's Pub at the Public Theatre; the Mint Theatre; and at HERE Arts Center.  She has served on selection panels for the New York State Council on the Arts, the New York Foundation for the Arts and the Young Playwrights Festival.
Jaye's current work is as both an artist and scholar whose critical meditation focuses on Black playwrights and the ways in which their works dramatically theorize the unique and persistently challenging predicament of Black life – one requiring ongoing examination.  Her forthcoming essays include "On the Table, Crumbs of Freedom: A 21st Century (re)Reading of Lynn Nottage's play, Crumbs from the Table of Joy", to be published in A Critical Companion to Lynn Nottage, edited by Jocelyn L. Buckner, by Routledge in 2015; and "A Review of Suzan-Lori Parks in Person by Philip C. Kolin and Harvey Young, Eds.," to be published in Text & Presentation by McFarland in 2015.  
Jaye will commence her post as Assistant Professor of Theatre Arts at California State University, Long Beach in fall 2015.