MFA in Costume Design
About our Program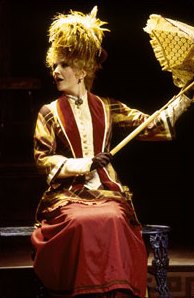 Portrait of a Lady, 2004
Please visit our Costume Design MFA Website for more information.
Our practical professional training encourages students to explore all the entertainment fields including stage, musical theatre, opera, film, dance, theme park and special event design. UC Irvine's close proximity to Los Angeles provides a vast choice of costume materials, supplies, rental houses, and research venues as well as career connections for the future.
The program prepares graduates for employment by emphasizing both costume design as a fine art and as a project management challenge. We strive to teach our students to see with "the eye of the mind" using their creative imagination to render passion into reality, bring life to characters and stories as an artistic response with cultural and historical sensitivity and take leadership roles in creative teams.
Only two students are admitted each year to provide individualized attention and support. The total cohort of costume design students is six. Each graduate student designs two to three fully supported productions. We also provide many other opportunities such as workshops, dance concerts, directing class projects and MFA thesis films during their three-year residency in the program.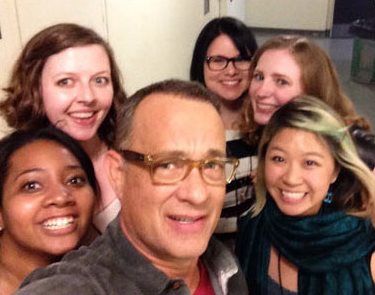 Leanna Moore, Kaitlyn Kaufman, Julie Carr, Sera Bourgeau,
& JoJo Siu. Students assisted Holly Poe Durbin, costume
designer for the show,Simply Shakespeare,
starring Tom Hanks.
Bridge Project
The Costume Design Bridge Project connects current MFA students to professionals working in the entertainment industry. A Guest Artist creates and leads a design project addressing current practices or challenges indicative of their field.
Students learn how to use professional resources and devise effective communication as it's really practiced. They discover the high expectations of real world costume design projects. Each student receives professional feedback reflecting the way contemporary designers, directors and producers work today.
Past Bridge Projects have included Guest Artist Poppy Cannon-Reese, the Manager of Universal Studios Costume Department with a distinguished career as a Costume Designer and Stylist for feature films and commercials; Mirena Rada, the original costume designer for Avenue Q who also designs parades for major theme parks, and members of the Halloween Horror Nights attractions at Universal Studios.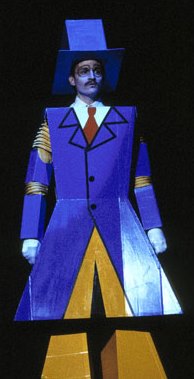 War to End War, 2004
How to Apply
Applicants may apply directly to our program using the online Graduate Application process. Please see the How to Apply tab at the top of this page for full instructions. Be sure to upload a current resume and portfolio materials for initial consideration. Students who qualify for an interview will be contacted by faculty.
Candidates using the URTA National Unified Audition and Interview process may be considered for the program and interview with faculty in Chicago. It is not required to apply tour program to be interviewed at the URTAs, but those who complete an application before January 10 will be guaranteed an interview in Chicago.
Please see the How to Apply tab at the top of this page for full instructions.
Read an interview with Rebecca Meredith, MFA '12, Resident Costume Designer for Sierra Repertory Theatre.
Click here to see what our alumni are doing!
Click here to read an interview with Holly Poe Durbin about looking for graduate programs.