Department History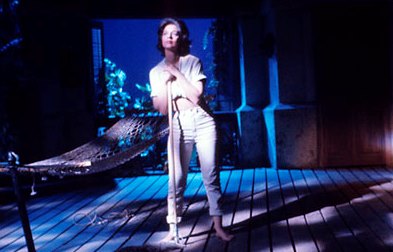 Night of the Iguana, first season, 1966. Lighting by
acclaimed director/designer, Peter Hunt.
The Founding
Drama studies began at UCI with the campus's founding in 1965, when Clayton Garrison, appointed as "Chairman of the Arts Department" for the new campus, persuaded the administration to make the Arts a school rather than a department. Garrison thus became the founding dean of UCI's School of Fine Arts, as it was thus named, and he, Robert Cohen and Richard Triplett became the initial Drama faculty, with Garrison teaching acting, Cohen directing and dramatic literature, and Triplett design. The campus's sole theatre facility was what is now the Little Theatre in Humanities Hall.

Early Years
In its first season, Drama mounted three productions: The Night of the Iguana, directed by Cohen and Little Mary Sunshine and the American premiere of Oh, What a Lovely War! directed by Garrison. Scenic and costume designs for all the shows were by Triplett, and lighting was designed by the school's tech director, John Elliott. There being only seven drama majors, all undergraduates, casting was open to members of the local community. There being little competition for dramatic - or even cinematic - entertainment in southern Orange County at that time, all productions sold out all performances, and Drama was well launched in the community.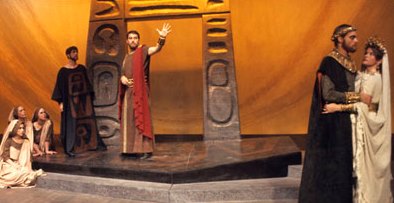 Oedipus, 1967, the first show of the Students' Repertory Theatre.
Undergraduate Bob Gunton (c, with hand raised) as Creon.
The following year, Drama adopted its "rule number one," whereby only full-time UCI students or faculty could be cast in productions. Cohen consequently created a Students' Repertory Theatre (soon renamed the Irvine Repertory Theatre) which met daily from 1:00 to 11:00, with intense classes and presenting four to six plays annually for the next four years. Distinguished adjunct faculty supplemented the tiny staff: William Inge taught playwriting, Curt Conway (a veteran of the Group Theater) and Brewster Mason (of the Royal Shakespeare Company) taught advanced acting, and Ian Bernard (of TV's Laugh-In) taught film/television writing. Broadway director Herbert Machiz was engaged as a guest director, most notably staging Mother Courage with guest faculty artist Lotte Lenya in the title role.
Years of Transition
In 1970, the School moved across Bridge Road to the new Fine Arts Village, which included three theatres, and enrollments surged. Two-year MFA programs were launched, and new faculty arrived annually, including Cameron Harvey in lighting, Keith Fowler in directing, Douglas-Scott Goheen in scenic design, David McDonald in playwriting, Eli Simon in Acting, Dudley Knight in Voice, Stephen Barker in Theory, and Dennis Castellano in Music Theatre. Bill Needles, veteran actor of the Stratford (Canada) Shakespearean Festival became a frequent guest artist and teacher. In the 1980s, Drama brought its MFA programs to pre-eminent status by increasing degree requirements to three years, appointing program heads in each area, auditioning applicants around the country, appointing permanent faculty in voice, speech, movement and other subareas, and developing a fully integrated curricula for each program. A New York City satellite program began and quickly flourished; a focused research program in Objective Drama, with a half million dollars in outside funding, brought Polish luminary Jerzy Grotowski to the campus full-time for three years, and brought with it the UCI Barn and Yurt; a separate research program in Medieval Drama brought equal outside funding for a three-year series of 21 English mystery plays, and Edward Albee was commissioned to write and direct a new play. Faculty publications and journal editing earned broad international readerships, and UCI's acting showcase, funded in perpetuity for graduate actors by a generous bequest, was established in New York and Hollywood. And Drama alumni had begun to found important repertory companies, write prize-winning plays, and win acting and design awards on Broadway, in regional theatres, and in films and television, all of which activity was recorded in the "Drama Alumni Newsletter" that began to be distributed nationally in 1978.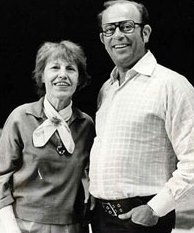 Lotta Lenya with director,
Herbert Machiz.
Maturity
In 1990, Stephen Barker became the department's second-ever chair, and in 1995 Cameron Harvey succeeded him, as the department grew to mature status: with a faculty of more than 25 full-time members and a student population of more than 400. The stunning 800-seat Irvine Barclay Theatre was added to the department's staging venues during this time. The legendary Shakespearean scholar, Robert Weimann, joined the faculty to help implement a Ph.D. program, which began accepting students under the direction of new faculty member Bryan Reynolds in 2000 - soon supplemented by faculty colleagues Daphne Lei, Ian Munro, Janelle Reinelt and Tony Kubiak. The department's core performance programs were vastly strengthened during this era by creating a full-time faculty position in stage movement, filled by Professor Annie Loui, another in stage management (Don Hill) and doubling to two the positions in voice and speech (now Phil Thompson and Cynthia Bassham). The department's very popular Music Theatre program, created by Professor Dennis Castellano, tripled its size by recruiting Professors Myrona DeLaney and Gary Busby.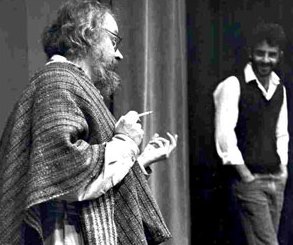 Grotowski in class at UCI.
By the turn of the 21st century, Drama was no longer limited to a national profile, and had become a truly global enterprise, with faculty teaching, directing, designing and touring in Korea, China, Poland, Japan, Romania, Estonia, Finland, Sweden, the Netherlands, Ghana, Italy, Costa Rica, Spain, England, Scotland, Ukraine, Hungary and the Czech Republic. Diversity studies have also been vastly expanded, with Professor Lei establishing graduate and undergraduate studies in Asian and Asian-American theatre, Frank Wilderson overseeing a curriculum in African American theatre, and Cliff Faulkner in Gay and Lesbian theatre. And UCI-based theatre activities involving the department's faculty, students, and alumni are now seen regularly around the world, with Eli Simon bringing his transnational productions and clown workshops to Korea and Italy, and Bryan Reynolds' Transversal Theatre Company touring for five consecutive years in Europe and beyond. Current and future technologies are also keenly explored as new colleagues arrive: Richard Brestoff in acting for the camera, Bill Tomlinson in interactive media, and Lonnie Alcaraz in lighting design and technology. A Field Station Theatre was created in Los Angeles to premiere plays with companies of drama grad students and alumni in America's second-largest theatre metropolis. A ten million dollar gift on behalf of late actress Claire Trevor has led to a complete renovation of the School's principal two stages, the renaming of the school itself, and the appointment of three endowed Claire Trevor Professorships of Drama: one going to Robert Cohen, the second world-acclaimed choreographer Donald McKayle (who also teaches in Drama) and a third - for two years - to Cornerstone Theater co-founder Bill Rauch. Literally hundreds of drama alumni have developed prominent careers as actors, directors, producers, designers, scholars, producers, stage managers and technicians. In 2005, the campus named Drama a "Program of Excellence" awarding the department two new faculty positions in the new area of Sound Design, which were promptly filled by Professors Michael Hooker and Vincent Olivieri who initiated the department's already-distinguished MFA program in Sound. Other gifts and awards in this period have contributed to the redesign of the school's central plaza (by the distinguished architect Maya Lin), the redesign of the Studio Theatre and its entranceway, the construction of an entirely new building scheduled for completion in 2010, and a major endowment for the engagement of distinguished guest directors and scholars. A 2006 outside academic peer review of the department thus confidently declared, "This department is outstanding, not only in California but among drama departments nationally," with reviewers noting that the faculty "include some of the most prominent theatre educators and professionals in the country."
And to the Present . . .
In 2007, Eli Simon became the fourth chair in the department's history, and in December 2018 Daniel Gary Busby completed his term as the fifth chair, now followed by Don Hill as acting chair. These years have seen appointments of new faculty members Holly Durbin, Jane Page, and Michael Ganio, who have joined the faculty as, respectively, the heads of Costume Design, Directing, and Scene Design, along with Jaymi Lee Smith in Lighting Design, Andrew Palermo in choreography, Ketu Katrak in Asian, African and Postcolonial drama, Joel Veenstra in Stage Management and improvisation, and Mihai Maniutiu, the Artistic Director of the National Romanian Theatre in Cluj, as the department's first Distinguished Professor. These years also brought about the creation of a new BFA degree in Music Theatre and, under the Artistic Directorship of Eli Simon, the 2012 opening of the New Swan Shakespeare Festival in a campus-constructed outdoor theatre mounted each summer in the midst of the UCI campus. Outside donations and Chancellor Office funding have greatly assisted the NSSF, and a million dollar gift from Lorna and Robert Cohen have bolstered the department budget for recruiting, advertising, and bringing professional guests to the campus. Indeed, exciting new activities – and ongoing plans for the department's future - are indicated throughout this website, and we invite readers of this summary of our past achievements to now turn their attention to the thrilling adventures described elsewhere in these pages.