Music Theatre / B.F.A.
The Department of Drama offers a wide array of musical theatre classes and experiences that have become an important stepping stone between the academic and professional worlds for the undergraduate student. Past graduates have appeared in Broadway and national touring productions of Spring Awakening, Hair, Spamalot, Oklahoma!, South Pacific, High Fidelity, Wicked, Dirty Rotten Scoundrels, A Chorus Line, Annie Get Your Gun, All Shook Up, The 25th Annual Putnam County Spelling Bee, and Jersey Boys. Our Bachelor of Fine Arts in Music Theatre offers select students unique experiences in the preparation of principal roles for the musical stage. In addition to the many classes and the two, fully produced musicals we present each year, our New York Satellite Program proves to be one of the highlights of our training.
Application and Audition
All students wishing to study musical theatre at UCIrvine must first apply to the University through our Admissions Office. You can apply on-line through UCIrvine's home page on the internet www.uci.edu by clicking on the "Prospective Student" tab. There you will find all the information you need regarding important University dates and deadlines. There is no audition to be accepted to the University and Department of Drama. Auditions happen once you arrive here as an accepted student. Although some of our musical theatre classes are open to everyone, the majority of our classes are by audition.
As an entering musical theatre hopeful, there are two auditions that happen at the beginning of the year that you should plan on attending:
The "Mega Audition" -- All of our major productions directed by faculty and graduate directing students audition during Welcome Week -- the week before Fall Quarter classes begin. (The "All Undergraduate Production" auditions during the Winter Quarter and is an exception to this.) All of the directors assemble together in one room and all students hoping to be cast perform monologues and songs cuts. Information will be sent to you regarding these auditions which feature an on-line sign-up sheet during the summer.
Music Theatre Workshop, Level II - Our main musical theatre class is called the Music Theatre Workshop, and although we offer four different levels of the class, Level II is the one that all new freshman and transfer students with musical theatre experience should be auditioning for. The audition is simple - only one chorus of a musical theatre song is required. Information and sign-up sheets are posted on the Drama Callboard (the large bulletin board located at the bottom of the stairs below the Drama Office).
Bachelor of Fine Arts in Music Theatre
Once a student has completed one quarter of the Music Theatre Workshop, Level III, they can audition for the B.F.A. in Music Theatre. Since transfer students are on campus for as little as two years, they may audition after completing one quarter of Level II. Exclusive to the B.F.A. students is the Music Theatre Workshop, Level IV (Drama 144), an acting class specifically for B.F.A candidates (Drama 136), and a special song repertoire class. Once accepted to the program, the student is required to finish a specific list of courses within the Drama and Dance departments in order to complete their degree. A special showcase opportunity is then organized for graduating B.F.A. students in New York.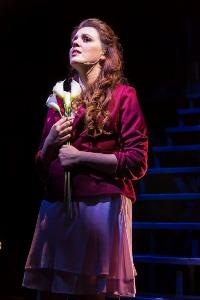 Nickel Mines, 2014
The Courses
[All of the following courses are required for the B.F.A. degree except for Drama 65. Some classes require pre-requisites not listed here. Check the UCIrvine General Catalogue for details.]
Music Theatre Workshop, Level I (Drama 65) Designed for students new to singing or musical theatre. Basic vocal technique, characterization, and physicalization of music and lyrics introduced. No audition required.
Music Theatre Acting (Drama 136) An acting class exclusive to the students in the B.F.A. in Music Theatre program.
Music Theatre Workshop, Level II (Drama 142) A singing/performance Master Class in audition technique and song interpretation. Admission by audition only.
Music Theatre Workshop, Level III (Drama 143A,B,C) Scene study and song repertoire examined by era. 143A: 1900s-1930s: operetta, revue, and musical comedy. 143B: 1940s-1960s: book musicals. 143C: 1970s-present: new forms and Broadway opera. Admission by audition only.
Music Theatre Workshop, Level IV (Drama 144) A performance class concentrating on role building and features open class performances of abbreviated musicals. For B.F.A. and Graduate Acting Students only.
Music Theatre Singing (Drama 145) Private weekly voice lessons for students enrolled in the Music Theatre Workshop, Levels III and IV.
New York Satellite Program (Drama 146A,B) An immersion experience in New York City for the musical theatre student. 146A: Class preparation in Winter Quarter. 146B: Master classes in singing, acting, dancing and the development of new works in New York City for the first 4 weeks of Spring quarter. Return to UCI for the remainder of the quarter. Check out the New York Satellite Program webpage for more information.
Music Theatre Dance (Drama 147) An exploration of various dance styles from different eras of the musical theatre stage.
History of American Musical Theatre (Drama 148A,B) Lecture course discussing the composers, librettists, directors, choreographers, and performers in the American musical theatre. 148A: 1700s-1940s: ballad opera, minstrels, vaudeville, burlesque, operetta, revues, and musical comedy. 148B: 1940s-present: book musicals, concept musicals, Broadway opera, and new forms.
Music Proficiency for Actors (Drama 149) A musicianship class introducing basic musical terminology, theory, and keyboard concepts. May be taken for credit twice.
Script and Score (Drama 176) A form and analysis seminar discussing the libretto and score of landmark musicals.
Other classes required in the B.F.A. in Music Theatre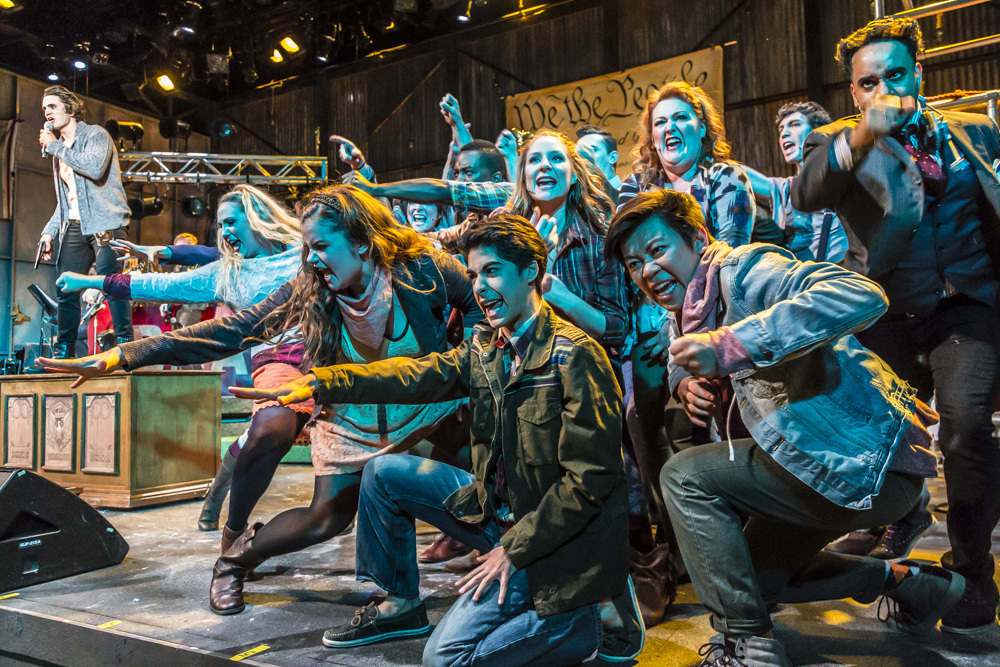 Bloody Bloody Andrew Jackson, 2013
Along with musical theatre courses, B.F.A. students are also required to take a series of regular Drama and Dance classes as well as other classes that fulfill the General Education Requirement of the university. (For a list of the General Education Requirements, check out the UCIrvine General Catalogue.) Here is the list of Drama and Dance classes required for the B.F.A.:
Production Theory (Drama 10)
Performance Now (Drama 15)
Acting (Drama 30A-B-C)
Development of Drama (Drama 40A,B,C)
One of the following Design Courses

Introduction to Costume Design (Drama 50A)
Introduction to Scenic Design (Drama 50B)
Introduction to Lighting Design (Drama 50C)
Introduction to Sound Design (Drama 50D)

University Theatre (Drama 100 - a musical production)
Theatre Production (8 units of Drama 101)
One Dramatic Literature Course (chosen from Drama 105-119 or 121-129)
Development of Theatre (Drama 120A,B,C)
Dance course requirements

2 Ballet classes
1 Tap class
1 Jazz class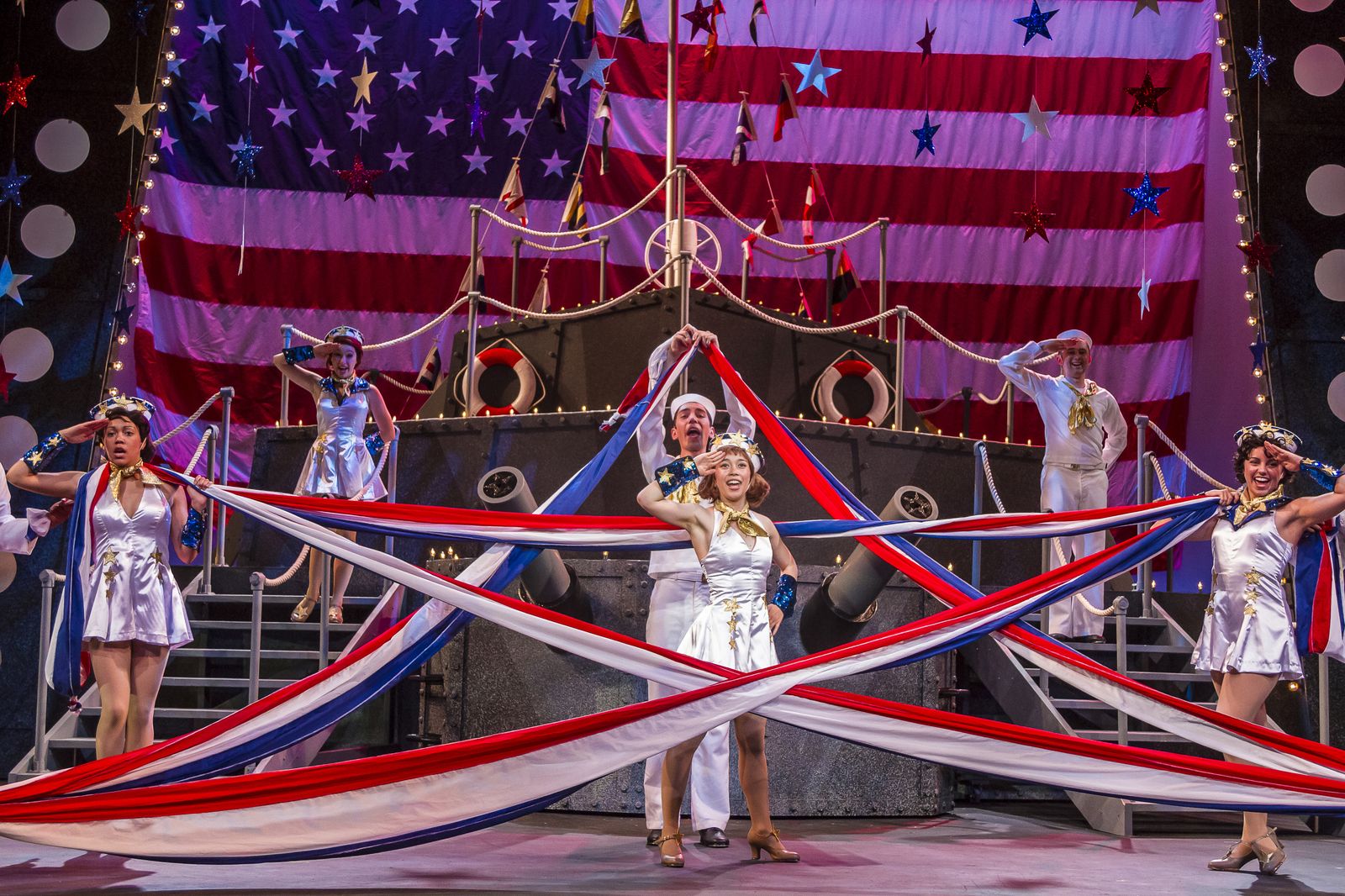 Dames at Sea, 2012
Honors in Music Theatre
At time of graduation, the special recognition of "Honors In Music Theatre" will be awarded to those B.F.A. students who maintain an overall G.P.A. of 3.2 and a G.P.A. of 3.4 in all musical theatre classes.
Faculty
Robin Buck: singing and vocal arts
courses: Music Theatre Workshop, Music Theatre Singing
Myrona DeLaney: head of the music theatre program, singing and acting coach, director of the New York Satellite Program
courses: Music Theatre Workshop, New York Satellite Program
Andrew Palermo: choreography/dance
courses: Music Theatre Choreography/Dance
Recent Production History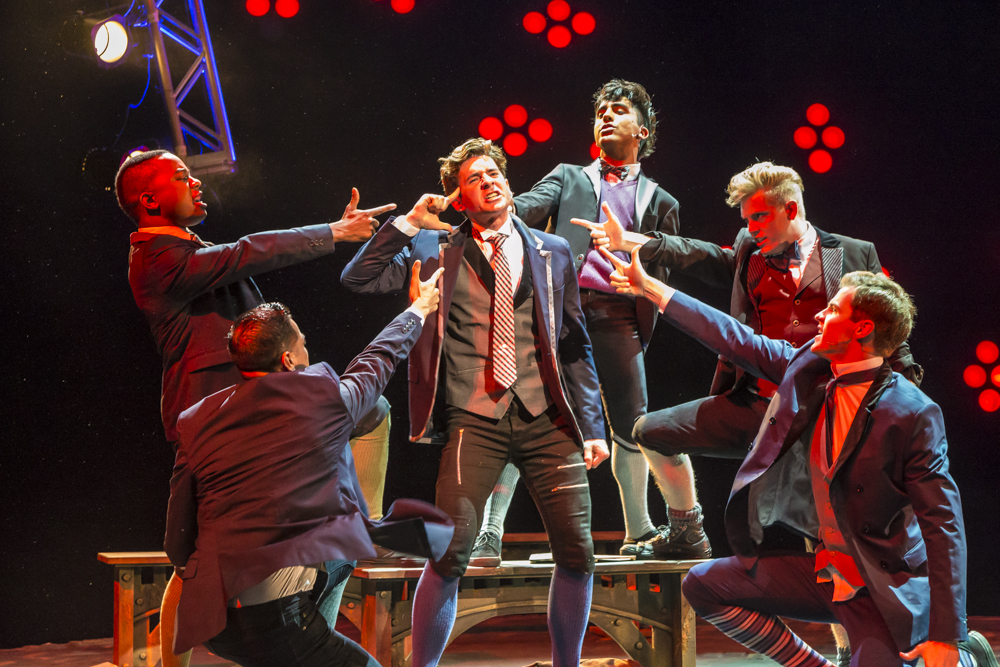 Spring Awakening, 2013
2018-19: Legally Blonde, The Pajama Game
2017-18: Chess, American Idiot
2016-17: Parade, Avenue Q
2015-16: Man of La Mancha, Evita
2014-15: Passion, Sweet Smell of Success
2013-14: Bloody Bloody Andrew Jackson, Nickel Mines
2012-13: Tinseltown Christmas, Spring Awakening
2011-12: Hello Again, Dames at Sea
2010-11: Into the Woods, The 25th Annual Putnam County Spelling Bee
2009-10: The Threepenny Opera, The Wild Party
2008-09: West Side Story, Little Women
2007-08: Anything Goes, Reefer Madness
2006-07: Sunday In the Park With George, Urinetown
2005-06: Kiss Me Kate, Nine
2004-05: Sweeney Todd, Seussical
2003-04: Cabaret, Blood Brothers
2002-03: My Fair Lady, Hair
2001-02: Victor/Victoria, Promenade
2000-01: Pirates of Penzance, Rocky Horror Show
1999-00: Guys & Dolls, Floyd Collins