Music Theatre / B.F.A. & Honors
MUSIC THEATRE @ UC IRVINE DRAMA
The UC Irvine Department of Drama offers a wide array of Musical Theatre classes and experiences that have become an important stepping stone between the academic and professional worlds for the undergraduate student. UCI Drama alumni are currently on Broadway in Mean Girls, Hadestown, Tootsie, The Play That Goes Wrong, Come from Away, Book of Mormon and Cher. Past graduates have appeared in the Broadway productions of Fun Home, Escape to Margaritaville, Spring Awakening, Hair, Spamalot, South Pacific, Urban Cowboy, King and I, High Fidelity, Wicked, Dirty Rotten Scoundrels, A Chorus Line, Annie Get Your Gun, All Shook Up, Grease, The Producers, and Jersey Boys.
Our Undergraduate Music Theatre Program provides drama majors the opportunity to audition for music theatre courses. This high-level training curriculum includes song repertoire building, audition technique, dance technique and repertoire, and singing for the stage, widening the actor's knowledge of the musical theatre canon and its important role as a truly American art form is one of the major goals of our comprehensive instruction.
The New York Satellite Program in Music Theatre is unique to UC Irvine. This four-week long intensive in Manhattan is open to all CTSA students. Auditions are held during O Week with preparation beginning with meetings in the Fall. NYSP classes begin in the Winter, and the Program heads to New York City in the Spring. In addition to classes acting, dance, voice, casting and auditioning in New York, the NYSP students participate in new musicals written particularly for them. These new works are presented Off-Broadway while the actors are in residence in NYC and again in Irvine upon the students return to campus.
Drama produces six Mainstage productions, including two musicals – one of which is only open to undergraduates. Past undergraduate productions include American Idiot, The Pajama Game, and The Sweet Smell of Success. In addition to Mainstage productions, students have multiple musical theatre performance opportunities throughout the year in faculty and student-directed works. The development of new musicals, such as Professor Andrew Palermo's Nickel Mines, is another important aspect of the UCI Music Theatre training program.
Honors in Music Theatre is a special denotation given at graduation to all music theatre students who have completed a required set of MT courses and have maintained an overall GPA of 3.2 as well as a GPA of 3.4 in all musical theatre classes.
Bachelor of Fine Arts Degree in Music Theatre is the final step in our MT class offerings. Each quarter those students that have completed one quarter of Music Theatre Workshop Level III can audition for entry into the BFA track. Courses available to only the BFA students are Song Repertoire, MT Workshop Level IV, and BFA Acting. The graduating BFA Class presents Showcases in NYC and LA each Spring for casting directors, agents and other theatre/film professionals.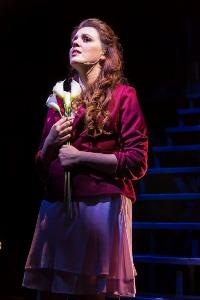 Nickel Mines, 2014
Application
All students interested in Music Theatre enter UC Irvine as Drama majors. Currently, there is no audition for the Department of Drama or the University. Auditions for courses happen once you arrive on campus as an accepted Drama student.
All those interested in Music Theatre at UCI should attend the following auditions during Welcome Week (sign-ups will be on the Drama Callboard):
-Music Theatre Workshop: Sing one 32-bar Music Theatre song written between 1920 and 2010. No Pop or Rock material. Bring music in a 3-ring binder, marked with introduction and ending. Music should be in your key. No recordings allowed.- more information at this link.
-Dance Technique: Learn a given dance combination that shows technique, training and individual style.

The MT Performance Courses
Music Theatre Workshop, Level I (Drama 65)
Designed to enhance vocal technique and explore the connection between music and lyrics.
Music Theatre Workshop, Level II (Drama 142)
A Song & Dance master class focused on audition techniques and layering the text into singing.
Music Theatre Workshop, Level III (Drama 143A, B, C)
Scene study and song repertoire course, focused on the development of a deeper more authentic connection between self and the character.
143A: Comedy.
143B: Drama.
143C: Contemporary & Pop/Rock.
Music Theatre Singing (Drama 145)
Weekly semi-private voice lessons for students enrolled in the MT Workshop Level III & IV.
Music Theatre Dance Technique (Drama 147)
Classical and contemporary dance training including musical theatre repertoire.
Theatrical Creation (Drama 195)
Collaborative development of new theatrical works in a rigorous, fun and supportive studio setting; A theatre course designed to inspire, create and imagine story through movement.
The MT Lecture Courses
History of American Musical Theatre (Drama 148A, B, C)
Lecture course discussing the composers, librettists, directors, choreographers, and performers in the American musical theatre.
148A: 1700s-1932: ballad opera, minstrels, vaudeville, burlesque, operetta, revues.
148B: 1932 - 1970: book musicals.
148C: 1970 – present: concept musical, rock opera, contemporary pop musical.
Music Proficiency for Actors (Drama 149)
This musicianship class introducing basic musical terminology, theory, and keyboard concepts.
Script and Score (Drama 176)
A form and analysis seminar discussing the libretto and score of landmark musicals.

The BFA in Music Theatre Courses
Music Theatre Acting (Drama 136)
An acting technique class exclusive to the students in the BFA in Music Theatre Program.
Music Theatre Workshop, Level IV (Drama 144)
A performance class concentrating on role building and performances of abbreviated musicals.
Song Repertoire (Drama 177)
Building authentic connection to voice and text using appropriate music theatre material for each actor.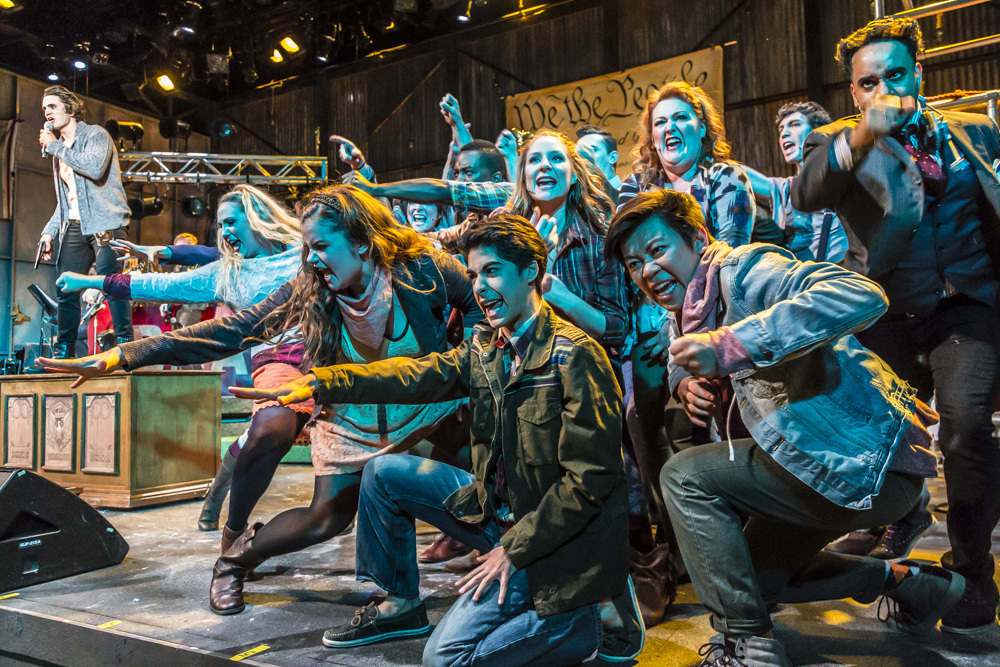 Bloody Bloody Andrew Jackson, 2013
Music Theatre Faculty
Graduate Advisor in Music Direction.
Courses: Music Theatre Singing, Vocal Pedagogy
Head of Music Theatre; Director of the New York Satellite Program.
Courses: Music Theatre Workshop Level II, Level III, Level IV; Song Repertoire, New York Satellite Program
Dance and Theatrical Creation
Courses: Dance Technique, Theatrical Creation.
Adjunct Faculty
Crystal Barron: Singing for the Stage.
Tor Campbell: Music Theatre Workshop Level II.
Ashlee Espinoza: Music Theatre History.
Corey Hirsch: Conducting, Musical Direction.
Lex Leigh: Musicianship, Vocal Coach.
Shannon Stoeke: Acting for the BFA.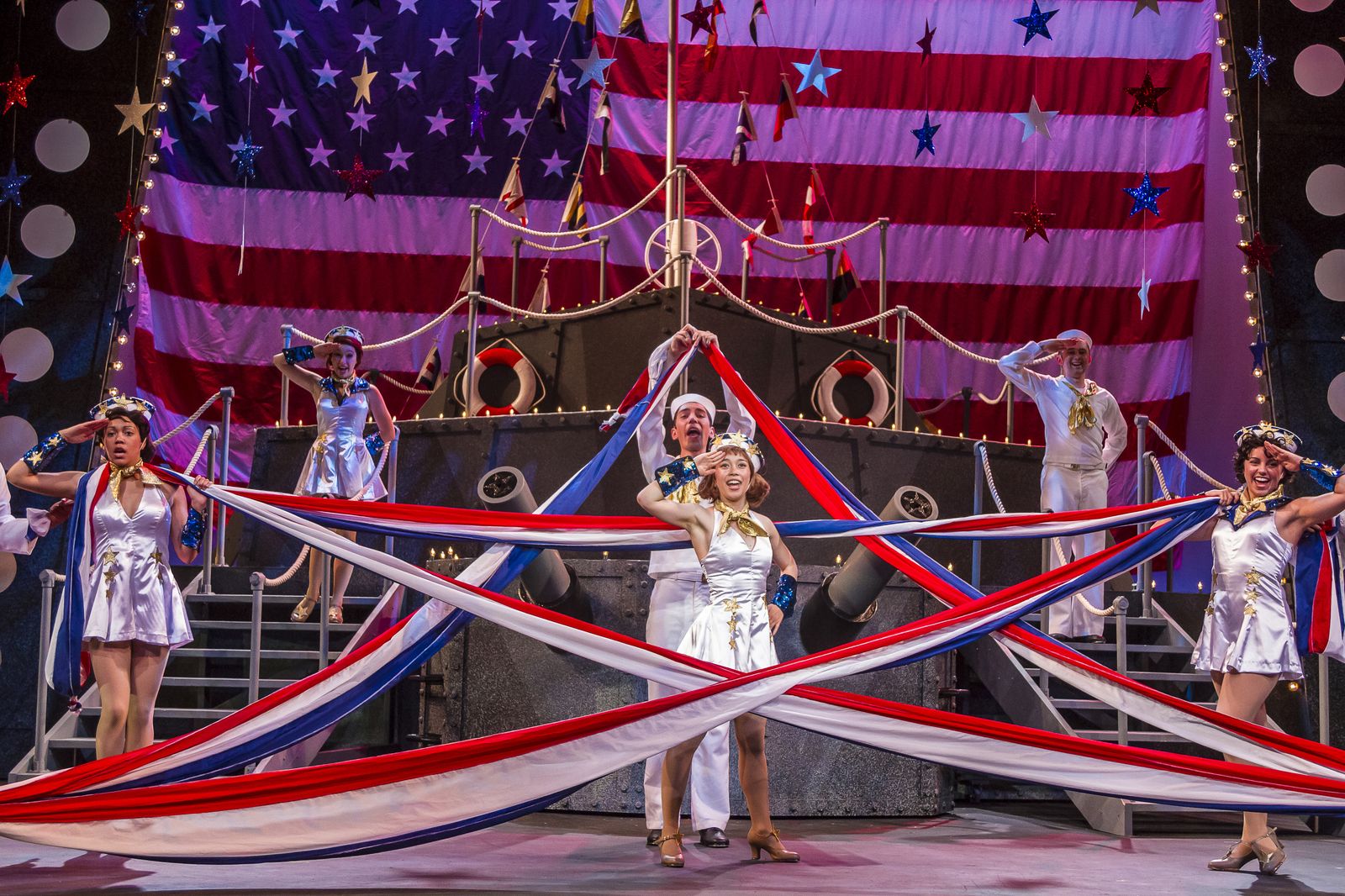 Dames at Sea, 2012
Recent Production History
2018-19: Legally Blonde, The Pajama Game
2017-18: Chess, American Idiot
2016-17: Parade, Avenue Q
2015-16: Man of La Mancha, Evita
2014-15: Passion, Sweet Smell of Success
2013-14: Bloody Bloody Andrew Jackson, Nickel Mines
2012-13: Tinseltown Christmas, Spring Awakening
2011-12: Hello Again, Dames at Sea
2010-11: Into the Woods, The 25th Annual Putnam County Spelling Bee
2009-10: The Threepenny Opera, The Wild Party
2008-09: West Side Story, Little Women, the Musical
2007-08: Anything Goes, Reefer Madness
2006-07: Sunday In the Park with George, Urinetown, the Musical
2005-06: Kiss Me Kate, Nine
2004-05: Sweeney Todd, Seussical, the Musical
2003-04: Cabaret, Blood Brothers
2002-03: My Fair Lady, Hair
2001-02: Victor/Victoria, Promenade
2000-01: Pirates of Penzance, Rocky Horror Show
1999-00: Guys & Dolls, Floyd Collins
For more information contact Dr. Myrona DeLaney @ mldelane@uci.edu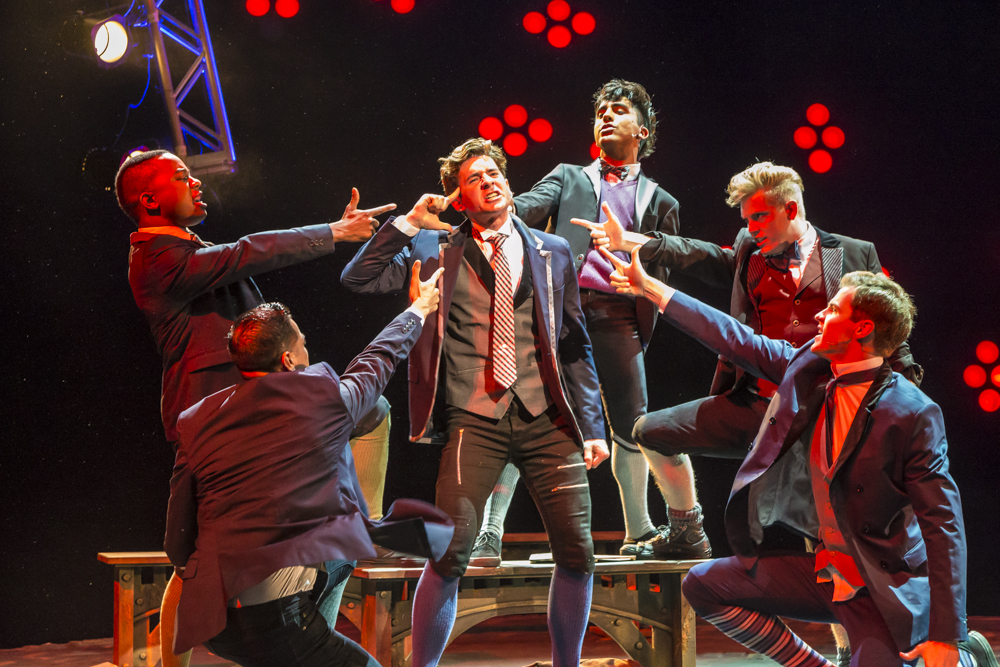 Spring Awakening, 2013