New York Satellite Program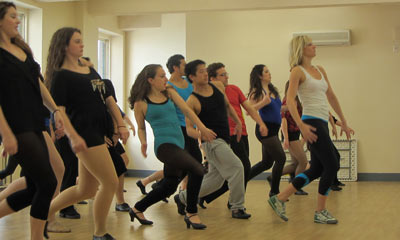 Are you interested in discovering what the life of an actor is like in the "Big Apple?" Would you benefit from a month-long study of the Broadway theatre world?
Are you an actor that sings? A dancer that acts? A singer who dances? A would-be, could-be, triple threat?
UCI's New York Satellite Program in Music Theatre may be right for you. This full-time, full-credit program runs for four weeks, from mid-March through mid-April, within UCI's undergraduate Spring curriculum. Students have workshops with casting directors and agents, take dance class at Broadway Dance Center, and television and film acting class in addition to attending talkbacks with the casts of Broadway and Off-Broadway shows. Auditions are held each Fall quarter during the first week of classes for this important program. Students live in Manhattan apartments and have the opportunity to see plays, musicals, ballets, museums, and everything that New York has to offer.
Past performance workshop directors have included Broadway and off-Broadway notables Josh Bergasse, James Calleri, Rachel Hoffman, Jenn Colella, James Calleri, Randy Skinner, Ray Hesselink, Patti Wilcox, Andrew Samonsky, Victoria Clark, Kyle Gonyea, Brian Blythe, Tammy Holder, Michael Kubala, Quinn Van Antwerp, Jay Binder, Baayork Le, Alicia Albright, Michael Gorman, DJ Gray, and Jenifer Foote.
Image: Jenifer Foote dance workshop