Annie Loui | Philosophy of Teaching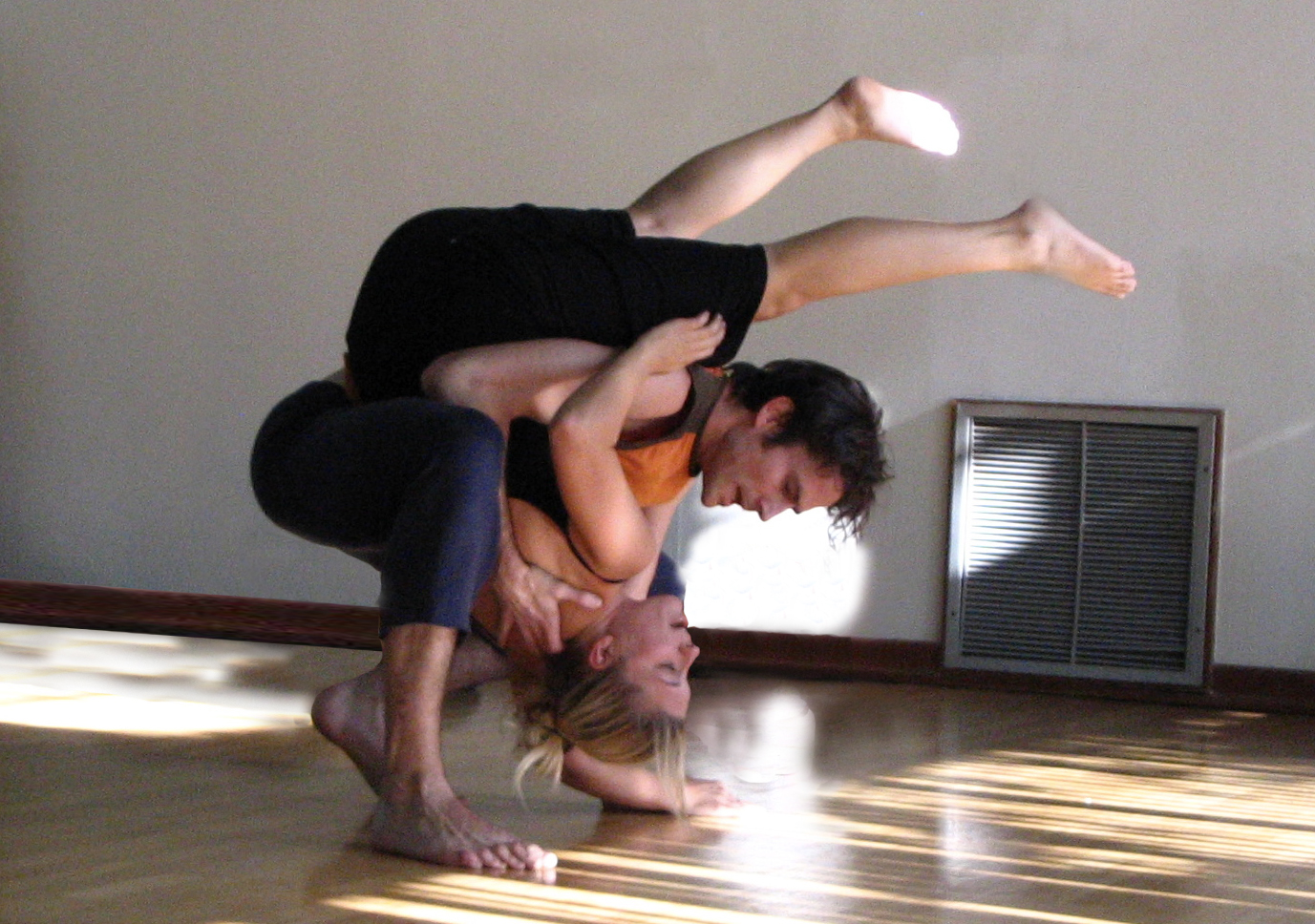 Movement class at the Grotowski Barn; Sean and Emily working on a scene
using contact improvisation.
My emphasis in Movement for the Actor is on developing each individual student's strength, flexibility, awareness, co-ordination and specificity; and creating viable theatrical connections between emotion and physicality.
To facilitate this daunting task, I am committed to daily physical warm-up based on exercises gleaned from yoga, modern dance and aikido designed to develop strength, stretch and alignment. In the first year of Graduate Training, mime isolations and figures oriented to specificity and intention are explored, as well as choreographic exercises designed to develop an awareness of self in space and self in relationship to the group. Contact improvisation, a major component of our physical work in the first year, is an improvisation form based on energy and weight exchange with a partner. The requisite tools of physical partnering (dance lifts, rudimentary tumbling, and counter-balance and weight exchange) are taught and practiced in this class. Contact improvisation in the context of an actor-training program is oriented, ultimately, to scene work; and honest, alert and engaged relationships with scene partners. The technique is also used to develop personal presence and the intuitive physical abilities of the actor (as well as improved coordination, balance, relaxation while engaging with a partner, and control). This work culminates in acting scenes worked within the context of a contact improvisation.
Contact Improvisation to Scene Study: authenticity in word and deed
Author's Accepted Manuscript of an article published in Dance, Theater and Performance Training TDPT, Fall 2012, copyright Taylor & Francis, available online at http://www.tandfonline.com.
During the second year of training, we work on period dance styles, emphasizing Elizabethan court manners and dances (Pavane, galliard and traditional country-dances). This work also culminates in scene work, usually Shakespearean dialogues spoken while dancing. Baroque minuets and manners are also covered, and the course ends with 19th and 20th century social dances (Viennese waltz, foxtrot, and tango) also placed in the context of a scene.
The third year of training in my classes is oriented to character development using techniques developed by Michael Chekhov. Imaging exercises, creative visualization, and incorporation are explored and shown in class towards a final goal of developing an honest and complete physical character. In preparation for future auditions, monologues are explored using contact improvisation. Actors are also coached in leadership of the morning warm-up, which they lead for the entire Graduate Acting Program during this final year of training.
In my role as the Head of the Movement Component of the Graduate Acting Program, I coordinate additional course work. Also included in the three years of movement training for the Graduate Acting Training Program are two courses in aikido/stage combat with Sensai Katz, and two six week courses dedicated to musical theater dance taught by Professor Andrew Palermo.