Holly Poe Durbin
Read an interview with Holly on About.com.
Costume designer Holly Poe Durbin began her first professional costume job at the age of 19 creating costumes for theater, US national tours, world tours, independent film, opera, and themed entertainment. Her work has been seen on London's West End, Broadway, Off Broadway, in Italy, China, Japan, the UK, Germany, Spain and Israel. Projects include the LA production of Much Ado About Nothing starring Helen Hunt and featuring Lyle Lovett; the Off Broadway productions Top Secret at the New York Theater Workshop and The Power of Darkness at the Mint Theater; the independent film How To Get To Candybar; and many regional theaters such as South Coast Repertory Theater, Portland Center Stage, the Old Globe Theater, Geffen Playhouse, Mark Taper Forum, Cincinnati Playhouse, Huntington Theater in Boston. Her film & tv career includes every level of work from set costumer, costume production management, wardrobe supervisor and costume designer.
Holly's teaching combines design aesthetics with leadership skills and actual industry practice to prepare students for a rapidly shifting entertainment profession. Drawing on the changes she has experienced and her many roles in entertainment, Holly educates students to take a long view of careers in entertainment, emphasizing the combination of artistic method and creative expression, storytelling ability and the practical knowledge of negotiation skills and project management for creative teams. She encourages digital skills for the costume profession: specialized classes include Digital Costume Rendering, Digital Textile Design & Printing, Textile Surface Modification and a unique seminar titled The Visual Story- the role of visual design elements in film.
Holly received her BA from Vanderbilt University where she studied Art, Art History and Dramatic Literature. She completed a costume management internship at the Royal Opera in London, and worked her way up through the apprentice program at the Santa Fe Opera, ultimately spending 3 years there in various staff roles. She worked as the Costume Director for Opera Theater of St Louis and the St Louis Repertory theater, transferring to Los Angeles as Costume Director for the Center Theater Group (Mark Taper Forum and Ahmanson Theater) and worked as an assistant designer in New York and Los Angeles. Holly received her MFA from UCLA's School of Theater, Film and Television. She is a past Western Region Board Member for the Costume Society of America, and currently sits on the Board of Directors for U/RTA. Holly won USITT's Herbert D. Greggs Award for innovative writing about theater design and technology in TD & T for a three part series of articles titled Seeing With Three Eyes: Designing for Different Media. The articles can be accessed at this link http://pomo2k.wordpress.com/about/speaker-bio/
Holly is extremely proud of her talented former students whose work spans the entire entertainment field: costume designers and assistants, film & television costumers, crafts artisans, national tour staff, university educators, artists, illustrators, theme park and museum personnel, gamers and cosplay artists. You can see some of Holly's costume renderings and production photos on her blog & website http://pomo2k.wordpress.com.
Other press about Holly's Projects
http://latimesblogs.latimes.com/culturemonster/2010/12/lyle-lovett-joining-helen-hunt-in-la-production-of-much-ado-about-nothing.html
http://latimesblogs.latimes.com/culturemonster/2010/10/shakespeare-center-of-los-angeles-to-stage-much-ado-about-nothing-with-helen-hunt.html
Holly has also recently been featured by the University online at http://www.uci.edu/features/2010/10/feature_fashionexhibit_101012.php.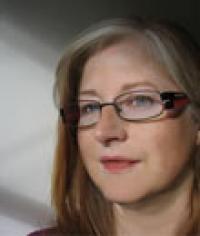 Title:
Professor of Costume Design
Specialization:
Head of Costume Design
Head of Design