Joel Veenstra
Joel Veenstra is a professional stage manager, production manager, and improviser. 
As an Actors' Equity Association stage manager, Veenstra coordinates collaborations and productions with renowned regional theaters, including Oregon Shakespeare Festival, Pasadena Playhouse, Laguna Playhouse, El Portal Theatre, the Matrix Theatre, and Richard & Karen Carpenter Performing Arts Center. He also stage manages large scale celebrity galas, including the 2015 Legacy Awards honoring Tom Hanks and Lisa Cholodenko (The Kids Are All Right); the 2013, 2014, and 2015 California Science Center's Discovery Ball featuring the Space Shuttle Endeavor; KindredSPIRITS 2012 at The Walt Disney Concert Hall;  the 2016 Legacy Awards honoring Sean Hayes (Will & Grace), Jill Soloway (Transparent), and Freeform (The Fosters, Pretty Little Liars, Shadowhunters); and The Detroit Creativity Project's Detroit Party featuring Keegan Michael-Key (Key and Peele, MADtv). 
Veenstra serves as a Production Manager for Counter Balance Theater and for the Claire Trevor School of the Arts' Drama Department's needs, including Dance Conversations: Theatres in Dance and the Dramatic Transformations productions, which examined the need for cultural inclusivity. Prior to joining UC Irvine's faculty, he was the Production Manager for the nationally recognized Cornerstone Theater Company based in Los Angeles.  He oversaw the critically acclaimed production of Café Vida, written by Lisa Loomer (Girl Interupted, The Waiting Room) and directed by Michael John Garcés (Los Illegals), in partnership with Homeboy Industries and presented by The Los Angeles Theatre Center operated by the Latino Theater Company.  He also coordinated Creative Seeds: An Exploration of Hunger, a one-of-a-kind 14-day festival comprised of 33 events in 20 different locations throughout Los Angeles with over 1,000 attendees.  
Improvisation also plays a key component in Veenstra's teaching, research and creative ventures. Veenstra promotes the interconnection of improvisation, stage management, and production in his work as well as in life itself. He teaches applied improvisation to business executives at The Paul Merage School of Business. He is also exploring the application of improvisation with UC Irvine's Program in Nursing Science. Veenstra is devoted to producing various improvisation projects. He conceived and annually produces UC Irvine's  Coup de Comedy Festival, a free 4-day comedy celebration for the community with over 30 performances and workshops. He has also produced a series of documentary shorts exploring the art of improvisational theater, titled Improv Legends: Ideas, Insights, Icons. In 2017, he launches the Global Improvisation Initiative Symposium 2017 at UC Irvine in conjunction with Chapman University. This summer, Veenstra will bring the Applied Improvisation Network to UC Irvine and Los Angeles as he chairs the 2017 World Conference.
From 2000 until 2005, Veenstra performed regularly with River City Improv, a professional improv ensemble based out of Grand Rapids, Michigan.  In the Los Angeles area, he performed with improv ensembles at The Second City Hollywood, iO West, Westside Comedy Theater (formerly Westside Eclectic), and the STAGEStheatre.  He has a created, directed, and mentored multiple improv teams, including Gull Lake Improv, S.W.A.T., and Improv Revolution. He graduated from The Second City Conservatory in Hollywood, Paul Sills' Theater Game Workshop, and Keith Johnstone's Improvisational Theatre Intensive. 
Upon arriving in Los Angeles, Veenstra began working as a Story Editor at Alcon Entertainment, which produced films including My Dog Skip, Insomnia, Sisterhood of the Traveling Pants, and The Blind Side, distributed through Warner Bros.  He worked on the release of Richard Donner's 16 Blocks and Neil LaBute's The Wicker Man.  Veenstra earned production credit for his work on Richard LaGravenese's P.S. I Love You, which starred Hilary Swank and Gerard Bulter and grossed over $156 million worldwide, One Missed Call, and The Sisterhood of the Traveling Pants 2.
In 1999, Veenstra created Veenstra Enterprises as a producing umbrella company for his creative ventures in film, video, and theatre.  At that time, he began directing and teaching theatre for the historic Peddy Players' Summerstock Program in Detroit.  In 2000 he delved into television production at Grand Rapids' ABC Affiliate WZZM 13.  In 2001, he began a relationship with Compass Film Academy where he produced a number of award winning short films and taught film production and screenwriting.  Between the inception of Veentra Enterprises and Veenstra's relocation to Los Angeles in 2005, he facilitated over 100 film, video, and theatrical productions. 
He has been a requested educator and speaker at the UCLA Extension, the Paul Merage School of Business, Calvin College, Compass Film Academy, the Damah Film Festival, Act One: Training for Hollywood, and the Applied Improvisation Network World Conference. Veenstra earned his MFA in Drama from the University of California, Irvine and his BA in Communication Arts and Sciences, with a Theatre focus, from Calvin College in Grand Rapids, Michigan.
He lives in Irvine with his wife, a licensed psychologist, and their son.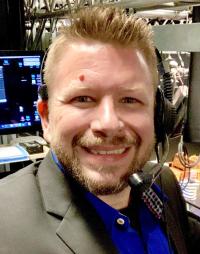 Title:
Associate Professor of Teaching
Specialization:
Associate Chair, in Charge of Production
Co-Head of Stage Management