Michael Hooker
Michael Hooker has designed sound and/or composed music for more than 120 productions. On Broadway, he designed Looped starring Valerie Harper at the Lyceum Theatre as well as the national tour starring Stephanie Powers. His regional theatrical designs have been heard in Oklahoma at Oregon Shakespeare Festival; composer for the world premiere of Quack and sound design for Pyrenees at the Kirk Douglas Theatre, Sunday In The Park With George at The Repertory Theatre of St. Louis; Mr Popper's Penguins, Peter and the Starcatcher, A Light in the Piazza, Becky Shaw, and the world premieres of Goldfish and Our Mother's Brief Affair at South Coast Repertory; Looped at Arena Stage; The Little Foxes and Looped at the Pasadena Playhouse and the Cuillo Center for the Arts in West Palm Beach, FL; A Doll's House at the Cincinnati Playhouse in the Park; Regina and Sweeney Todd at The Opera Theatre of St. Louis; and Julius Caesar at the Swine Palace in Baton Rouge, LA.
Locally he has designed the world premieres of Backyard by Mickey Birnbaum and Better by Sarah Goldberg at the Echo Theatre in Los Angeles; the world premieres of 3 Truths by Naiomi Iizuka and and For All Time by KJ Sanchez at Cornerstone Theater Company, Los Angeles; Lilly's Purple Plastic Purse at the Lewis Family Playhouse/Mainstreet Theatre, Beautiful in the Extreme and A Shayna Maidel at the Colony Theatre; Molly's Delicious at the Group at Strasberg - Marilyn Monroe Theatre; Drive My Coche, Bird's Nest Soup, The Mysterious Mrs. Nixon, A Line Around the Block, The Ballad of Ginger Esparza and Conjunto at the Mark Taper Forum New Works Festival/Taper, Too; and At the Hayworth Theatre in Los Angeles, he designed sound for Machiavelli and co-designed the world premiere of Eve's Rapture. His compositions for smaller shows have been heard at many theatre companies, including the Kaiser Permanente Educational Theatre production of The Amazing Food Detective. Past works have been heard in Sideways Stories from Wayside School at South Coast Repertory, and Tuesdays With Morrie at the Rubicon Theatre in Ventura, CA. His music direction and performance of Once on this Island have been heard at the Falcon Theatre in Cincinnati and Borderlands Theatre in Tucson, AZ.
For UCI, he composed music for the 2013 UCI Medal Awards Ceremony; and for UCI Drama The Merchant of Venice. He designed an interdisciplinary project presented in concert with the Pacific Symphony (Orange County, CA) and UCI Dance Dept. entitled The Sacre Project, which was a deconstruction and retelling of Stravinski's The Rite of Spring - coinciding with the 100-year anniversary of its premiere. Also for UCI Drama he has designed sound for Sunday in the Park with George, La Celestina, Rabbit Hole, Pericles, Fetes de la Nuit, Anything Goes, and West Side Story. In collaboration with Drama faculty member and playwright Bryan Reynolds, Michael composed for the musical Lumping in Fargo, which performed at the prestigious Gdansk Shakespeare Festival and The Green Knight, which premiered at the Sibiu International Theatre Festival in Romania. He has also designed sound, composed or arranged for other Reynolds plays including Railroad at Sibiu, Woof, Daddy at the Amsterdam Fringe Festival, and Blue Shade at the Divadlo DISK Theatre in Prague and the National Theatre Festival in Bucharest. With Professor Eli Simon, he sound designed and composed Clownzilla: A Love Story, which premiered at the Rude Guerilla Theatre in Santa Ana, CA and performed at the Accademia Dell'Arte in Arezzo, Italy and the Hanmadang Theatre Festival in Seoul, South Korea.
As a commercial sound designer and composer, Michael has designed sound and/or produced music for themed entertainment productions all over the world. He is currently composing attraction and background music for a new major theme park in Doha, Qatar opening in 2020. In 2017, he designed Tarzan, Call of the Jungle at the newly opened Shanghai Disneyland through Walt Disney Imagineering, Creative Entertainment. Michael has 4 musical arrangements for the Enchanted Art attractions on the Disney Dream cruise ship. He composed the music score for the Griffith Park Observatory/Samuel Oschin Planetarium show First Light: The Telescope Changed Everything and he has worked as sound editor for Buena Vista Interactive, Way Forward Technologies, Sonic Desktop Software and Creative Presentations. His musical arrangements have been heard online at Walt Disney Parks and Resorts Online.
Prior to UCI, Michael spent 6 years as Senior Media Designer for Walt Disney Imagineering (WDI) where he produced sound and music for Disney theme parks worldwide - including three newest Disney parks - Hong Kong Disneyland, Tokyo Disney Sea and Walt Disney Studios - Paris. Some of his major attractions at WDI are Aladdin's Magic Lamp Theatre at Tokyo Disney Sea and Cinemagique at Walt Disney Studios. He was area lead media designer for Adventureland at Hong Kong Disneyland and Mermaid Lagoon at Tokyo Disney Sea. Smaller attractions include two very popular holiday overlay shows: it's a small world very merry holiday and Haunted Mansion Holiday both at Tokyo Disneyland. He has two Themed Entertainment Association (Thea) awards for design work on Tokyo Disney Sea and Cinemagique.
His educational service spans 29 years. He was Associate Professor at the University of Cincinnati, College-Conservatory of Music (CCM) where he created their MFA and BFA programs in sound design. Prior to CCM he developed and headed the sound design program at California Institute of the Arts (CalArts). He also served as faculty at the University of Arizona - School of Theatre Arts and has been adjunct lecturer at both Pomona College and at CalArts. He has taught seminars at North Carolina School of the Arts and the Hong Kong Academy for Performing Arts.
He has been actively involved with the United States Institute for Theatre Technology (USITT) and served as the Sound Commissioner from 2000 to 2004 and Co-Commissioner in 2005. He has chaired 20 sessions since 1996 and programmed the sound sessions for all the national conventions from 2000 to 2005. He was part of the development and steering commitee for the 2012, 2014, 2016 and 2018 USITT SoundLabs. He is also a member of United Scenic Artists/IATSE local 829 and BMI.
Michael received a BFA in Interdisciplinary Fine Arts from the University of Arizona and an MFA in Performing Arts Design/Technology from the CalArts School of Theatre.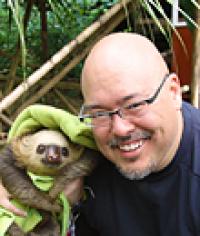 Title:
Professor of Sound Design