Myrona DeLaney
pronounced like Madonna with an R or Piranha with an M
I hail from the Midwest - Ohio to be specific. I am a classically trained pianist and attended Ohio University on a piano scholarship. I switched majors many times during those 5 years, from music education to journalism to composition, finally graduating (before my parents gave up on me) with a Bachelor of Fine Arts in Vocal Performance.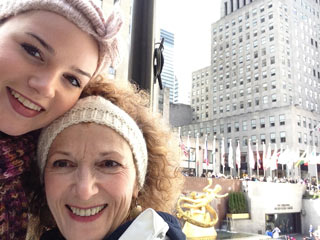 Myrona with her daughter, Emma, at Rockefeller Center
in New York
I began my professional career as a music theatre actor in Chicago, beginning my career at Candlelight Dinner Theatre in Oklahoma! Next were leads two original musicals, creative collaborations that solidified my goal to eventually guide the development of new work.
My first summer stock experiences were at Enchanted Hills Playhouse, a barn theatre in Syracuse, Indiana. There I played Laurie, Julie, Luisa, Nancy, Golda, Nellie and Mrs. Paroo over the course of two summers seasons. At that same time, I began teaching at Valparaiso University, a small Lutheran college just south of the Illinois border. It was here I created and directed the VU Show Revue, a traveling student-artist troupe. By the end of that second summer of stock, it was time to cut my Midwest apron strings and move to New York City. With $1000 in my checkbook, I was off to Manhattan.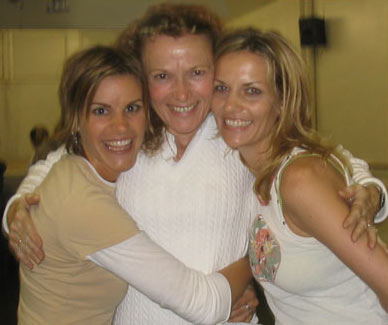 Myrona with Broadway actors and UCI alums, Jenn Colella (left)
and Jenn Foote (right)
What was I thinking! After two days of hunting for an apartment I ended up in Jackson Heights – broke and unemployed. I guess I should have packed more than my tap shoes!
It wasn't all bad though. The auditions were plentiful, even if local employment was not. Imagine the 42nd Street of 1982 – not a pretty sight and definitely scary to a naïve country girl like me.
But my love of the theatre won out. I worked Off-Broadway, did Jersey dinner theatre, and took shows in Florida and Toronto. I did a 6-month stint in Nashville at the now extinct Opryland theme park, dancing and singing with an 18-piece orchestra 5 or 6 hour-long shows a day. I returned to Orlando where I did a yearlong gig at Disney World in the role of Dolly Drew in the Hoop-Dee-Doo Revue, still running today!
Next stop – California! New challenges arose in LA. I tried the film/television route half-heartedly, but my real love was music theatre. I did shows at CLO's and dinner theatres and sang in an acapella quartet. For 18 months, I traveled the world on Royal Viking Cruise Lines as their lead singer, cabaret performer, and company manager.
Upon my return to land, I began my graduate studies at UC Irvine, where I played Phyllis in Follies and The Witch in Into the Woods, two of Sondheim's most brilliant works. In those three years I also completed two productions of Side by Side by Sondheim and played Celeste I in an award-winning production of Sunday in the Park with George at South Coast Repertory, directed by Barbara Damashek.
I completed my doctoral studies in Education and Leadership in 2009, after 6 years of classwork and research. My dissertation, titled University Actor Training: A Conduit for Creativity in Undergraduates. My continuing research includes Gifted Education, Creativity and Emotional Intelligence in Learning.
At UCI Drama, I directed Falsettos, Little Women, Seussical, Bloody Bloody Andrew Jackson, Urinetown, and Legally Blonde. I have also directed The Fantasticks at The New Swan Shakespeare Festival as well as Hello Dolly! (featuring Jonelle Allen) and Fiddler on the Roof for Saddleback Civic Light Opera. Most recently, I created /directed song concerts for the vocal trio Act Three at Carnegie Hall and Segerstrom Center for the Arts and served as the vocal coach for their latest recording at the famous Capitol Records in Los Angeles.
As you can see from this writing, my career has not gone in a straight line. Each experience – artistic, educational, or personal - brought me to my current position as Head of Music Theatre at UCI. I love music theatre. I love teaching and directing. I love challenging myself and others to grow. And the theatre is a safe place for me to engage in these creative pursuits. A place to explore, to learn about the world and our place in it, a laboratory for the testing of new ideas and give dynamic shape to old ones. The theatre gives freedom and space for our passions, our stories and our imaginations!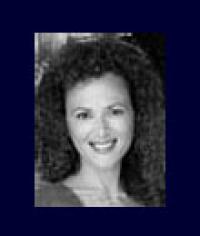 Title:
Professor of Teaching, Music Theatre
Degree:
M.F.A. University of California, Irvine