Robin Buck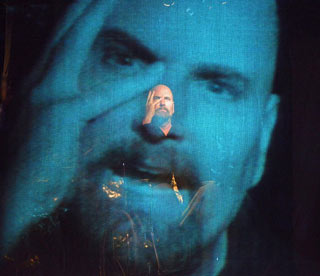 As Edgar in Stewart Copeland's The Tell-Tale Heart,
Long Beach, 2013
In a career spanning 35+ years, Robin Buck continues to receive critical acclaim for his versatility, acting and singing in a wide variety of opera, musical theater and concert works. His recent portrayal of Edgar in the U.S. premiere of Stewart Copeland's The Tell-Tale Heart had critics calling him "potently charismatic", "pathologically creepy" "mesmerizing", "exhilarating in his manic performance" in the " flashy, grisly, sexy saga of a serial-killing Poe in a wheelchair".
Crossover and musical theater roles have included the title roles in The Phantom of the Opera (with Andrew Lloyd-Webber's The Really Useful Company) and Sweeney Todd (Claire Trevor Theater), Cecil B. DeMille in Sunset Boulevard (Rhein-Main Theater, Germany), Pilate in Jesus Christ Superstar, Hucklebee in The Fantasticks (New Swan Shakespeare Festival), Cleonte in The Bourgeois Gentleman (Ravinia Festival, Chicago), Scrooge in A Christmas Carol, Pish-Tush in The Mikado, John Proctor in The Crucible and Lancelot in Camelot.
Click here for Robin Buck's website.
He has performed standard and contemporary operatic roles with companies throughout the United States and Europe, including NY City Opera, Los Angeles Opera, Theater Basel, Opernhaus Zürich in Switzerland and the National Theater in Mannheim, Germany. World-premieres have included Lewis in Wonderland and Prospero in Masque by Alan Terricciano, the Singing God in The Birds in DMZ (adapted from Aristophanes by Eli Simon) and Esterhazy in The Dreyfus Affair (Theater Basel). He has appeared on the television series Life Goes On and Wolf, and is featured as Joseph in The Glory of Christmas and Bartimaeus in The Glory of Easter on DVD.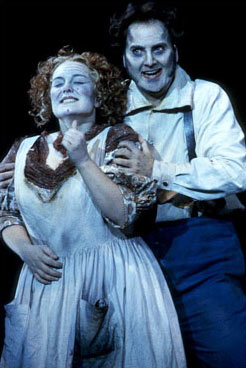 Sweeney Todd, 2003
Robin Buck made his Carnegie Hall solo debut as part of its centennial season with Sir Simon Rattle and the City of Birmingham Symphony (U.K.), and has appeared as soloist with the Los Angeles Philharmonic, the Chicago Symphony, LA Master Chorale, Pacific Symphony, the Buffalo Philharmonic and orchestras throughout the U.S. and in Germany, Switzerland, Poland, Spain and the U.K. in concert works ranging from Orff's Carmina Burana and Mahler's Lieder eines fahrenden Gesellen to songs of Gershwin and Rodgers and Hammerstein.
He has worked with conductors and stage directors including Placido Domingo, James Conlon, Esa-Pekka Salonen, Andreas Mitisek, Tom O'Horgan, John deLancie, Christopher Alden, David Schweizer, Ken Roht, Jonathan Eaton and Gordon Davidson, and been mentored by singers including Birgit Nilsson, Hans Hotter and Theodor Uppman. His voice teachers have included Kathleen Darragh, T. Alan Bowers and Dickson Titus; he studied stage direction with Frans Boerlage, acting with Lilyan Chauvin and Henry Kemp-Blair, and workshopped new musicals at the Lehman Engel Musical Theater Workshop in Los Angeles.
Recent performances have included lead vocalist in the Laguna Beach Pageant of the Masters' The Big Picture, the title role in Michael Nyman's The Man who Mistook his Wife for a Hat, the husband in Poulenc's The Breasts of Tiresias, Satan in Martinu's Tears of a Knife, Barabashkin in Shostakovich's Moscow: Cherry Town and Andrew/ Armour Wren in David Lang's The Difficulty of Crossing a Field in highly acclaimed productions by Long Beach Opera. He returns to this "cutting-edge" company as Leon Klinghoffer in the Southern California premiere of John Adams' controversial opera The Death of Klinghoffer in March 2014, as part of the Los Angeles Philharmonic's Minimalist Jukebox festival.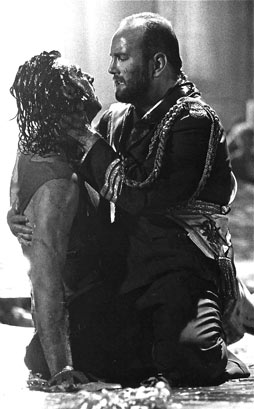 As Pilate in Jesus Christ Superstar,
Theater Basel
Mr. Buck is Professor in the Claire Trevor School of the Arts at the University of California, Irvine where he currently teaches voice in the Drama department's Musical Theater program. Director of UCI Opera from 2001-2012, he has directed and/or produced 18 full-length, one-act or pastiches of opera and musical theater in collaboration with the Music, Drama and Dance departments.
In demand as a voice teacher, coach, adjudicator and clinician, he has been an artist-in-residence at the Franz Schubert Institut in Baden-bei-Wien, Austria, the Lotte Lehmann Akademie in Perleberg, Germany and the Festival of New Music in Malaga, Spain, the Hawaii Performing Arts Festival, L'Academie de Musique de Sion, Switzerland and SongFest (Malibu). He has served on panels for Opera America and the National Opera Association, and has presented master classes at the Jazzschule Basel (Switzerland), Newnham College at Cambridge University (U.K.), University of Nevada (Las Vegas), Interlochen Academy of the Arts (Michigan) and the University of Wisconsin (Madison).
Prior to joining the faculty at UCI, he was Director of Opera and instructor of voice at Chapman University and California State University Long Beach.
A native of California, Mr. Buck holds a Master's degree from the University of Southern California where he was named Outstanding Graduate in Vocal Arts, and a Bachelor of Music degree from Chapman University. He is a member of the National Association of Teachers of Singing (NATS), American Guild of Musical Artists (AGMA), Screen Actor's Guild (SAG), Actor's Equity Association (AEA) and the American Federation of Television and Radio Artists (AFTRA).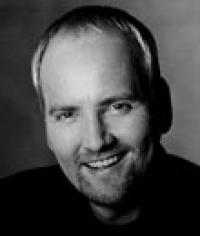 Title:
Professor of Vocal Arts / Music Theatre, Emeritus
Degree:
M.M., University of Southern California