Tiffany Ana López
Dr. Tiffany Ana López is a visionary artist, administrator and proven champion for diversity, equity and inclusion. In her new role at UCI Claire Trevor School of the Arts, Dean López intends to further the School's mission by creating and building connections with the community by harnessing the strengths of the School to create clear throughlines and professional pathways for both student and faculty research.
Previously, Dean López served as the Vice Provost for Inclusive Excellence at Arizona State University (ASU). She was also the Director of ASU's School of Film, Dance and Theater at the Herberger Institute for Design and the Arts (HIDA). During her leadership, the film program grew and diversified its curriculum, faculty and students in preparation for launching as the Sidney Poitier New American Film School.
A first-generation college student, Dr. López earned her Ph.D. and M.A. from the University of California, Santa Barbara, and her B.A. from California State University, Sacramento, following a transfer from the California community colleges. She spent 21 years teaching at the University of California, Riverside, where she led Latinx initiatives, programming, and community engagement for the university as Tomás Rivera Endowed Chair in the College of Humanities, Arts and Social Sciences. She also worked with colleagues in the School of Medicine as a co-PI on an NEH grant with Dr. Juliet McMullin on medical narratives and graphic medicine. A DEIB-centered leader in higher education, she has participated in numerous academies and organizations: International Council of Fine Arts Deans (2018); ASU Advanced Leadership Institute (2017); ASU Georgetown Academy for Innovation for Leadership in Higher Education (2019); University of California Systemwide CORO Leadership Collaborative (2015); Executive Leadership Academy of the American Association of Hispanics in Higher Education (2010); the National Association for Chief Diversity Officers in Higher Education (2020). Among her awards, she was a nominee for Arizona's 48 Most Intriguing Women (2022); recipient of an ASU Faculty Women's Association Outstanding Faculty Mentor award (2019), a Hispanic Lifestyle Latina of Influence (2015), Fulbright Scholar (2004), and numerous grants and fellowships from the Mellon Foundation, National Endowment for the Humanities, National Endowment for the Arts, and Rockefeller Foundation.
Dr. López is a hybrid theater scholar and artist (dramaturge) whose work explores how people and communities tell stories about trauma and violence and the impact of creativity in launching paths for personal transformation and social change. She has over two decades of work producing scholarly and creative content for regional theaters, including Center Theatre Group (P.L.A.Y. - Performing for Los Angeles Youth) and Oregon Shakespeare Festival (Illuminations). She has been published in numerous books and journals, including: Encuentro – Latinx Performance for the New American Theater (2019); The Cambridge Guide to U.S. Latina/o Literature (2016); Performing the U.S. Latina and Latino Borderlands (2011); and Theatre Journal (2000). Her editorships include Chicana/Latina Studies: A Journal of MALCS /Mujeres Activas en Letras y Cambio Social (2005-2012) and the coming-of-age anthology Growing Up Chicana/o (1993), listed in the syllabus for the Playbill for John Leguizamo's Latin History for Morons.
As a literary and production dramaturge, she has worked with numerous companies and theaters, including: Southwest Shakespeare Company, Oregon Shakespeare Festival, Artists Repertory Theatre, the Mark Taper Forum/Center Theatre Group, Arizona Theatre Company, Cornerstone Theater Company, The Los Angeles Theatre Center, CASA 0101, and Breath of Fire Latina Theater Ensemble. Recent production dramaturgy includes: La Ruta by Isaac Gomez; Mother Road by Octavio Solis; Romeo and Juliet; Mojada: A Mexica Medea by Luis Alfaro; Native Gardens by Karen Zacarias. She has also adapted the work of Tomás Rivera for the stage. She is the founding director of the Latina/o Play Project at the Barbara and Art Culver Center for the Arts in Riverside, California and a founding member of the Latino Theater Alliance of Los Angeles, the National Latinx Theater Commons, and the Latinx Literature Society for the American Literature Association.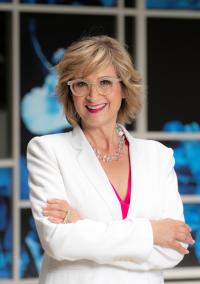 Title:
Dean, Claire Trevor School of the Arts and Claire Trevor Professor
Degree:
Ph.D. University of California, Santa Barbara
Master's degree. University of California, Santa Barbara
Bachelor's degree. English, California State University, Sacramento