Vincent Olivieri
Vincent Olivieri has designed sound and composed music for theatrical productions around the world. His recent credits include productions at Oregon Shakespeare Festival, South Coast Repertory, Notre Dame Shakespeare Festival, and ID Lab at the Academy of Theatre and Dance in Amsterdam.
In New York, his Broadway credits include the design & score for HIGH and contributions to August Wilson's RADIO GOLF. Other NYC credits include productions at The Public Theatre, Second Stage, 59e59, Gorilla Productions, and Art Meets Commerce. He has workshopped new plays for The New York Theatre Workshop and New York Stage & Film.
Regionally, he has created work for Oregon Shakespeare Festival, The Guthrie, South Coast Repertory, The Geffen Playhouse, The Pasadena Playhouse, Cincinnati Playhouse in the Park, Pittsburgh Public Theatre, Baltimore's Center Stage, Yale Repertory Theatre, Milwaukee Repertory Theatre, Theatreworks Hartford, Barrington Stage Company, Indiana Repertory Theatre, Syracuse Stage, Berkshire Theatre Festival, Theatre Alliance, The Chance, People's Light and Theatre Company, Opera House Arts, Theatre Novi Most, New Swan Shakespeare Company, and Virginia Stage Company.
Vincent worked for three years as the Resident Sound Designer at Actors Theatre of Louisville, where he designed and composed for the regular season and for the world-renowned Humana Festival of New American Plays. His Humana credits include the world premiere productions by playwrights Gina Gionfriddo, Kirsten Greenidge, Jerome Hairston, Melanie Marnich, Charles L. Mee, Adam Rapp, Theresa Rebeck, and Alexandra Gersten-Vassilaros. His work on Russell Davis's THE SECOND DEATH OF PRISCILLA was selected to be exhibited at the Prague Quadrennial Design Exposition.
Internationally, Vincent's work has been heard in Holland at the Academy of Theatre and Dance (Amsterdam), Romania at The National Theatre of Romania (Cluj), Italy at the Arezzo Festival (Arezzo), China at the Asian Pacific Theatre Expo (Shanghai), the Prague Quadrennial, and South Korea with the Tuida Performance Group.
Vincent has a particular interest in new work development, and in addition to his work at the Humana Festival, he has created designs and scores for world premieres by Keith Josef Adkins, Roberto Aguirre-Sacasa, Melody Bates, Rachel Bonds, Sean Cunningham, Michael Golamco, Lauren Gunderson, Howard Korder, Len Jenkins, Joe Kraemer, Neil LaBute, Matthew Lombardo, Annie Loui, Tarell Alvin McCraney, Kira Obolensky, Tira Palmquist, Bryan Reynolds, Sarah Treem, Robert Lewis Vaughan, David Wiener, Paula Zelaya-Cervantes, and Anna Ziegler. With Eli Simon, he developed a number of clown productions, including two productions for Teatrul National Cluj, the Romanian National Theatre Company in Cluj, Romania.
Vincent created the sound design and original music for the world premiere of RADIO GOLF, the last play in August Wilson's ten-play cycle chronicling the African-American experience in the twentieth century.
Outside of the theatrical field, Vincent conducts research and creative work in sound for Virtual Reality. Currently, he is running a research group with UCI Informatics Professor Tess Tanenbaum that consists of students in Sound Design, Computer Music, and Computer Science.
He designed, mixed, and mastered the short film BOURN KIND which had its premiere at the Tribeca Film Festival.
Prior to joining the faculty at UCI, he taught, lectured, led workshops, or served as a guest artist at many colleges and universities including Auburn University, Barnard College, Bellarmine College, The Juilliard School, UMass-Amherst, and Yale University. He is an active member of the Sound Commission and the Gateway Program of USITT and a regular contributor to freesound.org. He has written a number of articles for trade magazines including Stage Directions and Lighting & Sound America.
Vincent holds a BA in mathematics and a minor in music performance from the University of Richmond and an MFA in Sound Design from the Yale School of Drama. He lives in Southern California with his wife, his daughter, and their plants.
You can hear his work at www.soundandstage.net.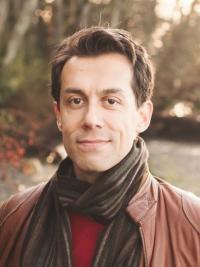 Title:
Professor of Sound Design
Specialization:
Graduate Advisor for M.F.A. Sound Design Program