Blue Shade
Inspired by Georg Büchner's famous 19th-century play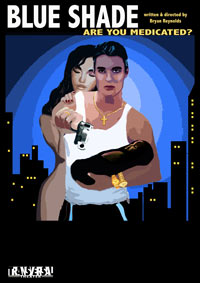 Woyeck, and combining typically distinct theatrical styles, from dark comedy to abstract expressionism to musical surrealism, Blue Shade is about a young mafioso from Brooklyn, Joey Mazzoni, who, as a distraction from trying to deal with his too-hot-to-handle wife and the demands of "the business," overindulges in today's freaky fast-track self-help ethos on which daytime talk shows and the pharmaceutical industry thrive. In Blue Shade civilization risks absolute explanation through the all-too sobering ingestion of a breakthrough drug that inspires a logic necessary to create order out of chaos in a warped economy where the means supersede the ends. Whereas making sense is privileged in this lusty, double-edged world on-the-loose, Joey's enlightenment may not be just what the doctor ordered.
A Transversal Theater Production
by Bryan Reynolds
Director: Robert Cohen
Composer/Sound Designer: Mike Hooker
Set Design: Douglas-Scott Goheen
Lighting Design: Lonnie Alcaraz
Costume Design: Christa Mathis
Stage Manager: Kevin Kreczko
Assistant Lighting Designer: Karyn Lawrence
Voice/Dialect Coach: Cynthia Bassham
Featuring Mercedes Manning, Breanne Mowdy, Chris Marshall (MFA 1998), Martin Swoverland (MFA 2003), and Vince Tycer.
Trailer:
http://www.youtube.com/watch?v=-FCdoBXeYY0
UCI faculty wrote, directed, and designed this drama that premiered at the Little Theatre, UC Irvine, and then toured to the Czech Republic and Poland:
National Theatre, Radu Stanca, Sibiu, Romania
National Theatre Festival, Bucharest, Romania
Teatr Lalek, Wroclaw, Poland
Teatr Modjeska, Legnica, Poland
Teatr 77, Lodz, Poland
Divadlo DISK, Academy of Performing Arts (DAMU), Prague, Czech Republic
Little Theatre, University of California, Irvine