Lumping In Fargo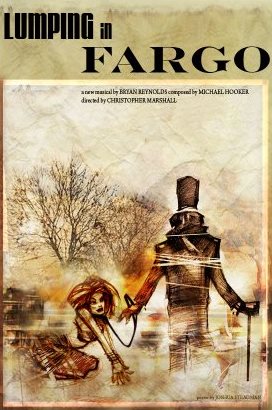 Lumping in Fargo rock operas the eccentric world of multi-millionaire misanthrope Leopold Wallersheim out of a tempestuous winter that could only be mellowed by his puckish retro 80s new wave poodle, Elvira, until the melodious voice of a nubile furniture mover, Cathy Lynn Bommerbasch, ignites hitherto unimagined passions. Yet the Fargoean romantics are unexpectedly muffled when accusations of child molestation compromise their idyllic future. The ensuing courtroom drama, haunted by tragic histories as well as ghostly forbearance, raises questions unanswerable by Betty Sue and Linda Lou. Who they are, of course, remains a mystery until you go Lumping in Fargo.
A Transversal Theater Production
by Bryan Reynolds (book/lyrics) & Mike Hooker (music)
Book & Lyrics by Bryan Reynolds
Music by Mike Hooker
Directed by Christopher Marshall (UCIrvine MFA)
Choreography: Lisa Naugle
Musical Direction: Daniel Gary Busby
Lighting Design: Lonnie Rafael Alcaraz
Sound Design & Music Production: Mike Hooker
Scenic Design: Joshua Steadman (UCIrvine MFA)
Costume Design: Christa Mathis (UCIrvine MFA)
Production Stage Manager: Kevin T. Kreczko (UCIrvine MFA)
Cast:
Daryn Mack (UCIrvine MFA): JERRY LEE HEILMAN
Martin Swoverland (UCIrvine MFA): LEOPOLD WALLERSHEIM, JUDGE BIRNBAUM
Stephanie Philo (UCIrvine MFA): ELVIRA, BETTY SUE HEILMAN
Jennifer Schoch: VERNA MARY ECKLAND, LINDA LOU HEILMAN
Sarah Moreau: CATHY LYNN BOMMERBASCH, DEFENSE ATTORNEY LEHMANN
Production Staff:
Assistant Director: Kevin T. Kreczko (UCIrvine MFA)
Assistant Stage Manager: Hanna Sender
Graphic Designer: Tu Nguyen
Light Board Operator: Lauren McCue (UCIrvine PhD)
Dramaturg: Ian Munro
Set Construction: Keith Bangs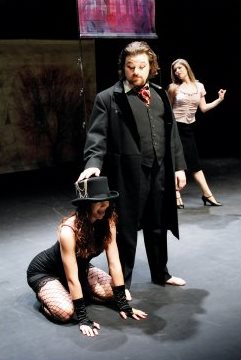 Performances:
UCIrvine faculty wrote and designed this drama that was work-shopped at UCIrvine, and then premiered in Poland:
12th International Shakespeare Festival, Teatr Wybrzeze, Gdansk, Poland, August 2008.
Teatr Rozrywki, Chorzow, Poland, July 2008.
Los Angeles New American Music Theatre Festival, Studio Theatre, UC Irvine, June 2008.
Review:
Review of Lumping in Fargo in Borrowers and Lenders: The Journal of Shakespeare and Appropriation 3:2 (2008).
Lumping in Fargo on Youtube: