Railroad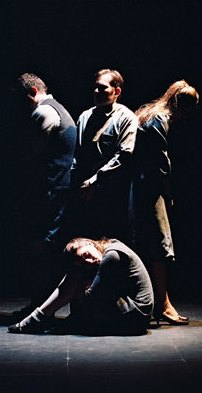 Railroad is a play of intense yet highly confined action (a narrow boxcar: imagine whirling atomic particles spiraling inward into a black hole) that explodes outward in the human dimensions of three living families from three cultures (Jewish, World War II German, and 21st-century American), four generations, and two eras. Centripetal, centrifugal, and reeling by turns, the play emerges from the defining center of the 20th century (the Holocaust, the nadir of civilized Europe) to create the wobbling imbalance of the present day on a grassy knoll in polyglot Battery Park, New York City.
In design, acting, and production, we seek to create the pressure of confinement and the joy of childish hopes, the lack of air and the freedom of flight (emigration), the bleakness of the black German Lugar, and the audaciously bright colors of the American flag, all in their centrifugal/centripetal dance.
The plays asks what it means to be religious, have faith, belong to a nationality, and, ultimately, what it means to be human.
A Transversal Theater Production
by Bryan Reynolds
Director: Robert Cohen
Sound Design: Mike Hooker
Set Design: Douglas-Scott Goheen
Lighting Design: Lonnie Alcaraz
Costume Design: Christa Mathis
Assistant Director and Stage Manager: Greg Ungar
Dramaturg: Adam Bryx
Assistant Lighting Designer: Sara Broadhead
Voice/Dialect Coach: Phil Thompson
Featuring Adrian Alita, Christa Mathis, Laura Simms, and Martin Swoverland (MFA 2003)
UCI faculty wrote, directed, and designed this drama that premiered at the Little Theatre, UC Irvine, and then toured Romania:
Sibiu International Theatre Festival
The National Theatre, Cluj