Unbuckled
A hip, trendy, attractive intellectual Los Angeles couple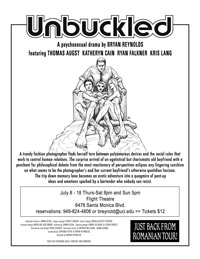 in doldrums reconfigures positively in light of some radical, unanticipated human interventions. The surprise arrival of a megalomaniacal but irresistibly charismatic old boyfriend with a penchant and acumen for rigorous philosophical debate from the most reactionary of perspectives eclipses any lingering sunshine on what seems to be the couple's otherwise dim horizon. The trip down memory lane becomes an adventure into a quagmire of pent-up emotions and desires that crystallize unexpectedly through the erotic mediation of a bartender that nobody can keep their eyes and hands off.
A Transversal Theater Production
Written and Directed by Bryan Reynolds
Costume Design: Madeline Kozlowski
Set Design: Douglas-Scott Goheen
Lighting Design: Lonnie Alcaraz
Lighting Assistant: Elisha Griego
Dramaturg: Janna Segal
Stage Manager: Stacy Haggin
A faculty directed and authored comic satire that premiered in California and then traveled to the Sibiu International Theatre Festival in Romania as a result of a juried international competition. It also toured to Cluj, Tirgu Mures, and Sfintu Gheorghe, all cities in Romania.
National Theatre in Cluj, Romania