Woof, Daddy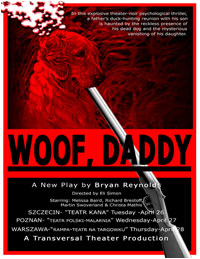 A Transversal Theater Production
by Bryan Reynolds
Director: Eli Simon
Costume Design: Madeline Kozlowski
Set Design: Douglas-Scott Goheen
Lighting Design: Lonnie Alcaraz
Assistant Director and Stage Manager: Greg Ungar
Dramaturg: Janna Segal
Featuring Melissa Baird, Richard Brestoff, Christa Mathis and Martin Swoverland (MFA 2003)
UCI faculty wrote, directed, designed and acted in this comedic drama that premiered at the Claire Trevor Theatre, UC Irvine, and then toured the following theatres in Poland:
Rampa-Teatr Na Targowku, Warsaw
Teatr Kana, Szczecin
Teatr Polski-Malarnia, Poznan
Review:
Welcome to Warsaw
Bessa Publishers
June, 2005

The Brilliant Performance

Warsaw was honored and enchanted by a visit from the esteemed Transversal Theater Company, a troupe founded by philosopher/playwright Bryan Reynolds and other members of the University of California at Irvine's faculty in drama and music. The tour organized by Joanna Klass of Arden2, an organization for developing international dialogue in the arts, was the first of a series of presentations of contemporary American theatre productions in Polish cities.

The troupe enjoyed a very successful tour of Poland that culminated in the brilliant performance of Reynolds' new psychological tragic-comedy Woof, Daddy at Teatr Rampa in Warsaw. With merciless humor, passion, and suspense the audience was taken on a wild duck-hunting expedition into a family's unraveling of the past. Supported by a subtle, minimalist set (by Doug Goheen), the combination of theatrical styles, from absurdist to musical to realism, created a world of unrelenting surprises, tossing the audience to and from heart-wrenching emotion to profound thought. As the father, Richard Brestoff was magnificent, like a Shakespearean anti-hero simultaneously loved and despised, he pushed the audience off the edges of their seats. Christa Mathis, as Sparkles the dog, was so captivating that she no doubt caused audience members to reconsider their relationships with their own pets.

Woof, Daddy was a unique experience that we can only hope will be repeated by subsequent visits of Hand2Mouth Theatre form Portland, Oregon and Double Edge Theatre of Ashfield, Massachusetts, both coming to perform in Warsaw in July. Through this program Arden2 hopes to establish a regular exchange program between Polish and American theatre organizations, facilitate direct dialogue about arts and present conditions of cultural activism in both countries.