Alumnus Skyler Gray is changing the industry, one production at a time
By Mia Hammett
Alum Skyler Gray (B.A. Directing and Stage Management, '11) continues to push the boundaries of new play development. Having entered UCI as a music theater major, Gray's academic and professional career inevitably evolved to recognize his desire to advocate for creators, performers, and their contributions to the arts. Now working as a theatre agent, Gray actively amplifies artists' voices in an ever-changing creative industry.
In his second year at the UCI Claire Trevor School of the Arts (CTSA), Gray was struck by a drunk driver, forcing him to confront his dream career as a stage performer. After the accident, it was Professor Keith Fowler and Professor Don Hill in the Department of Drama who inspired Gray to pursue a career shift. They both showed him that there is a world outside of being on stage.
"I took a few directing classes with Keith and loved that side of it. Then the following year, I took a few stage management classes with Don. It was around that time that I fell in love with the world of new plays."
It is here where Gray's place in music theatre began to shift — from on-stage performance to behind-the-scenes development.
"I was always fascinated by the concept of working on new plays, but I had never been involved in the creation of a new work."
During his time at the CTSA, Gray was fortunate enough to work collaboratively and productively toward a career in "the industry," having founded a theater company with fellow alumni that ultimately informed the rest of his career.
"Because I was able to produce and direct, in addition to being involved in various capacities in departmental productions, I was able to learn how to build a project from the ground up."
Knowing Gray graduated with honors in both stage management and directing at UCI, one might ask, "Why not one or the other?"
"You can't be successful in a process as a director without valuing the art of stage management, and you can't excel as a stage manager without understanding the work of a director. Because I was trained in both, I was able to walk in a room as a stage manager and already be thinking about what the director was trying to plan ahead. Ultimately, stage management and directing informed my work as an arts administrator," said Gray.
After graduating, Gray became an intern for South Coast Repertory's Pacific Playwrights Festival — his first  big break  after graduating from UCI. "That's where I got to know what literary management and new play development were, which combined everything I liked about stage management and directing into this career path I didn't know existed."
We are talking about making it a more equitable, livable, and respectful industry. Those are vital conversations...
As Gray grew in experience and theatrical expertise, so too did his résumé — from working in the Williamstown Theatre Festival and the William Morris Endeavor agency to being the Literary Manager at the Alley Theatre in Houston and the Director of New Play Development at Victory Gardens Theater in Chicago.
"I absolutely loved producing and helping artists create at the theaters I worked at, but I soured on my role of being a gatekeeper at institutions that were asking artists to sacrifice a living wage and the necessary resources to do their jobs in the name of art. I wanted to do something about that imbalance."
Growing increasingly distant from his desire to work for an institution, in 2019, Gray joined The Gersh Agency in New York to do what he ultimately loved most — supporting artists in their creative journey every step of the way.
"We work in a business of ideas, but the ideas can't be more important than the people creating them. It is really about committing to these artists for their careers and growing with them as an agency as they grow as storytellers."
Gray's work as an agent lets him see not only the fruits of the artists' labor, but the sheer difficulty of trying to create in a business where the doors are often closed to the artist.
"We are talking about making it a more equitable, livable, and respectful industry. Those are vital conversations — but if the people making the decisions don't actually understand what it takes to be an artist, then nothing changes."
While mass political, social and national health concerns loom perpetually in the foreground, Gray's career allows him the unique position of working at the center of a creative industry — arguably one of the most effective ways to break down barriers to success.
"What we're seeing right now as theater returns is that a lot of institutions are grappling with how to turn their statements into tangible action — and they're being held accountable in doing so. To create change, theaters need to invest in new ways of producing and give artists the opportunities and resources to succeed. Our industry has this hierarchy where you have to have experience to get in the door, but you can't get that experience without banging the door down in the first place. You have to give those artists the opportunity, and you have to set them up for success."
Still, Gray admits, "We're seeing more diverse and expansive stories on stage than ever before, with a wide range of styles and plays eager to defy structure. I think that's super exciting — but there is still work that needs to be done in making sure those stories make it to the stage."
Gray, too, recognizes the role experience plays in one's career longevity, and encourages future theater agents to find their place in a topsy-turvy industry.
"If you are interested in learning more about what an agent does, I would suggest you talk to someone who is an agent, or has an agent. See all of the [productions] and art you can… Get out there and create: Direct, write, perform, design and produce a new work and get to understand what it takes to be an artist — because how can you really advocate for an artist if you've never been one?"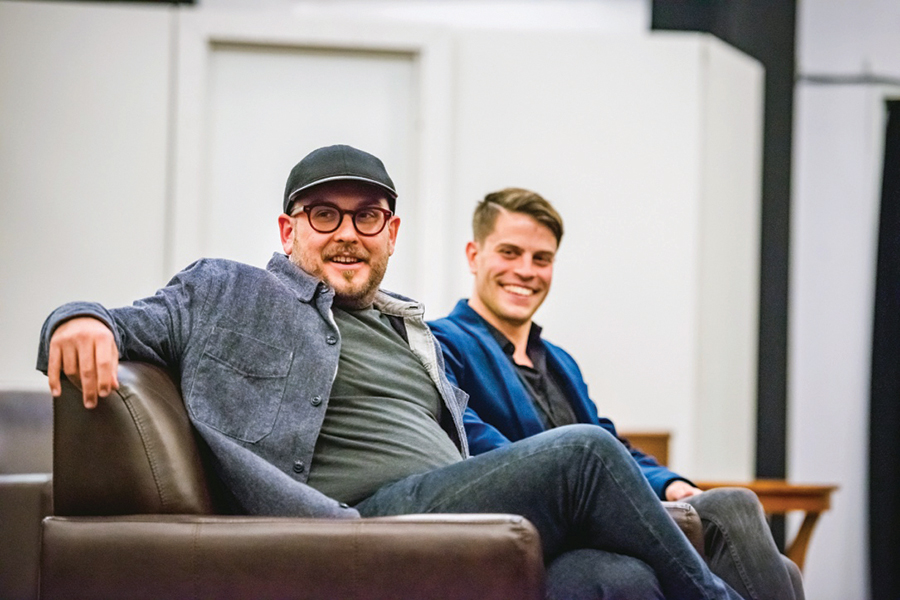 Image: Skyler Gray (right) with playwright Robert Askins during a performance talkback.
---
Skyler Gray is currently a literary agent at The Gersh Agency in New York.
Mia Hammett is a second-year English major in the School of Humanities. She would like to thank Gigi Fusco-Meese for conducting the interview used for her feature story.
To learn more about CTSA alumni, visit the website at www.arts.uci.edu/news/alumni.
Please visit our secure direct giving page and make a gift today!
CONNECT - Spring 2022