Behind-the-Scenes of SHE KILLS MONSTERS: VIRTUAL REALMS with Tolu Ekisola
By Lauren Knight
Instead of prepping in the wings of a theater before the curtain rises, Tolu Ekisola adjusts her light sources and fixes the laptop that rests on two cardboard boxes in her home office in Minnesota. With her props laid out on the desk in front of her and a large green screen behind her, Ekisola prepares for her performance in She Kills Monsters: Virtual Realms, UCI's first full-length online drama production. While she may not have a physical set or a live audience filling seats in front of her, Ekisola and the rest of the cast and crew of She Kills Monsters utilize all of the technology at their disposal to create a performance that captivates the virtual audience watching on Zoom. As the pandemic continues, so does the UCI department of drama.
This tech-heavy production tells the story of Agnes, a girl learning about her deceased sister Tilly through the Dungeons & Dragons module she created before she passed.
Agnes discovers more information about Tilly's life through the fantasy world and reality, and begins to realize that there was so much she never knew about her sister. With 2nd-year M.F.A. Acting student Ekisola portraying the show's protagonist, Agnes, She Kills Monsters features a team of actors and designers from the graduate and undergraduate drama programs.
As Ekisola's second digital performance since the beginning of the pandemic, the transition to this production format was not entirely foreign. However, with the many new elements embedded into She Kills Monsters, Ekisola learned skills in the rehearsal process that brought an entirely new perspective to the making of online theatre.
"I think we've been so understanding of each other because it is a new time, and we all are figuring it out together. It does feel like a team. It feels like a collaborative effort and understanding that we need to be patient with one another–because the pandemic has been hard for all of us," said Ekisola.
In addition to this warm community feel of this production, the technical aspects that Ekisola gets to see incorporated into the performance were unique to the format of a UCI online production. Using OBS, or Open Broadcast Software, designers can stream the performance through a third-party tool, allowing them to move screens and configure actors in a different way than the traditional Zoom layout. Socially-distanced and masked on campus in the xMPL theatre, those involved with the show's technical portions can sit and run lights, sound, and projections remotely for the performers at home. With their tools shipped to wherever they are living, Ekisola and the cast have everything they need to perform in their own spaces.
"At the beginning of the rehearsal process, we were sent a lot of tools, including a microphone and lighting, and I was sent costumes all the way from California. I have props, like my sword, and earphones that the audience can't really see because they're clear and go over your ears. I also got gelatin and food coloring to make the jell-o mold in Scene 1, which is really fun," said Ekisola.
When it comes to connecting to her character without being in the same physical space as her cast, a virtual performance at this level comes with its challenges.
"The trickiest thing is the focus for me. When you're onstage, you know that your audience is out in front of you and that your scene partner is to your right or left, and you can disengage those two things. You can keep up that fourth wall because you are living and breathing in that world that can ground you. Online, looking at a pile of boxes with a bright light in my face, it's a bit trickier to stay grounded in your reality when your reality is 'I'm in an office,'" said Ekisola.
Despite those challenges, Ekisola hopes to develop her skills as an actor that will directly translate to on-screen acting, where the circumstances of a performance are relatively similar.
"Oftentimes, you won't get that physical reality if you're doing film or television, you have a whole crew of people staring at you as you do this. It's as fake as it comes. But you have to stay real and grounded in that situation nonetheless," said Ekisola.
As Ekisola reflects on the collaborative work they have all created through She Kills Monsters, she acknowledges that some groundbreaking work truly can come out of less-than-ideal circumstances for creators during this time.
"When you have a small canvas and a few colors, you can still make art, even if you don't have the full range of colors in the spectrum."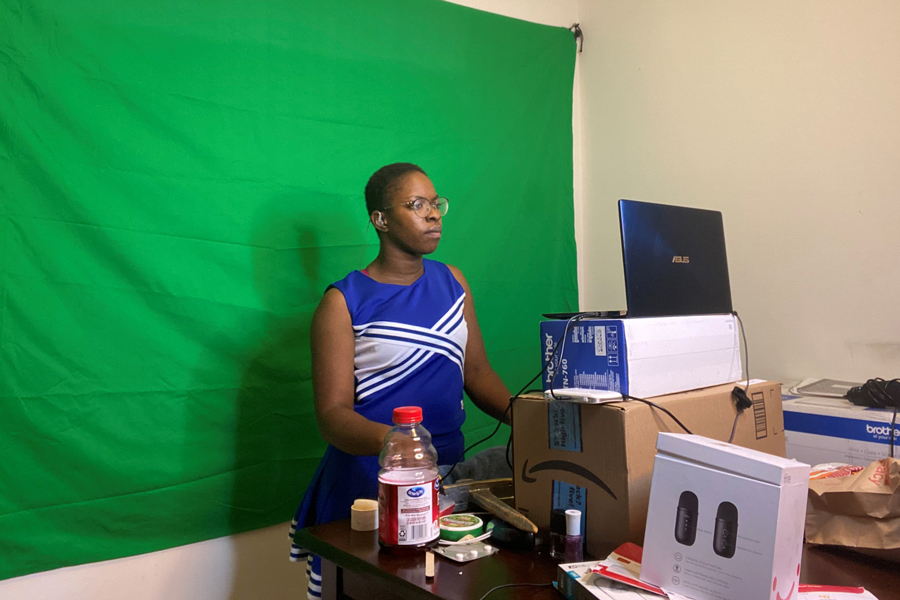 Image: (Top) A screenshot of graphics developed by the co-art directors for She Kills Monsters: Virtual Realms, Merle DeWitt III and Nita Mendoza.  (Bottom) Tolu Ekisola participates in an online rehearsal from her home in Minnesota.
---
She Kills Monsters: Virtual Realms runs online Dec. 5-13, 2020, with free admission through our online ticketing system here.
Productions at UCI are made possible thanks to the support of our donors. Please consider making a gift today to support Drama at UCI.