The Celebrate New Swan Gala honored a decade of the Bard at UCI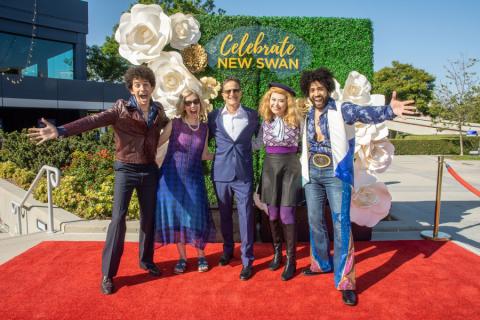 On Friday, July 15, UCI's New Swan Shakespeare Festival welcomed 120 guests for its Celebrate New Swan Gala and a midsummer's night to remember. Guests were treated to a magical and elegant evening under the stars celebrating the tenth anniversary season and the opening night of The Comedy of Errrorrs. 
The evening commenced at the Irvine Barclay Theater Plaza with a lively cocktail reception, sponsored by Gail and Jim Lopes, featuring signature cocktails, wines by Dani Gold Wines and music by Jason Feddy. Festive décor was provided courtesy of Paul Fenner Florals and sponsored by Julia Lupton and Kenneth Reinhard. Following the reception, guests dined al fresco and enjoyed cuisine by 24 Carrots and dessert by Simply Sweet Cakery. Co-directors of New Swan Shakespeare Center, Eli Simon and Julia Lupton provided the remarks and joined guests in a celebratory toast. Guests then transitioned to the star of the evening, the New Swan Theater, to view the opening night performance of The Comedy of Errrorrs. 
"The occasion of our Gala was cause for celebration on so many levels," said Chancellor's Professor Eli Simon, artistic director, New Swan Shakespeare Festival. "I was filled with gratitude that the campus and community embraces New Swan so passionately, that there's joy at our return to live theater, and that so many people care so deeply about the success of our artistic endeavors. In the words of the Bard, 'What more can I say but thanks, thanks, and ever thanks.'"   
Special guests included the Celebrate New Swan Committee, Pamela and Carl Lagoni, Gail and Jim Lopes, Kathleen Mellon, Cheryll and Richard Ruszat, and Susan and Gene Spiritus, as well as Festival sponsors James and Katie Loss, Mary Gilly and John Graham, and Timothy and Jean Weiss. Notable UCI leadership were also in attendance for the festivities, including Provost Hal Stern, Dean Tiffany Lopez, Dean Tyrus Miller, Vice Chancellor Pramod Khargonekar, and UCI Librarian Lorelei Tanji.
"It was an unforgettable evening of wonderful company and a fabulous performance. I was deeply inspired by our community's passionate stewardship of the arts at UCI and the New Swan Shakespeare Festival," said Tiffany López, dean of the Claire Trevor School of the Arts. 
Proceeds from the event support New Swan's 2022 season and year-long educational programs, which include performances, lectures, workshops, and its youth internship program.
About the New Swan Shakespeare Festival: Now in its 10th year, the New Swan Shakespeare Festival is a professional Shakespeare festival presented on the UCI campus each summer. It is comprised of current and former students, faculty and staff. New Swan features students and professionals working side by side to produce scintillating Shakespearean productions in a 130-seat, 15-ton, portable, mini-Elizabethan space. The artistic team typically produces two Shakespearean works in a rotating repertory under the stars. New Swan Shakespeare Festival is hosted and produced in collaboration with the University of California, Irvine, the Claire Trevor School of the Arts, and the Department of Drama. For more information, visit newswanshakespeare.com.
About the Claire Trevor School of the Arts: The Claire Trevor School of the Arts is UCI's creative laboratory, exploring and presenting the arts as the essence of human experience and expression through art forms ranging from the most traditional to the radically new. CTSA has proven itself to be a national leader in training emerging artists and performers since its establishment in 1965. In 2000, the school was named in honor of Academy Award-winning actress Claire Trevor and her involvement with the school and its students.
CTSA is home to the departments of art, dance, drama and music. Undergraduate and graduate degree courses include extensive studio, workshop and performance experiences; theoretical and historical studies; and arts and technology practices.
Boasting an acclaimed, international faculty who work across a wide variety of disciplines and partner with others across campus, CTSA also provides excellent facilities to support artistic development and research. These include four theaters; a concert hall; three art galleries; the Beall Center for Art + Technology; electronic music studios; cutting-edge costume, lighting and scenic design studios; a stage production shop; digital arts labs; and a video production studio. For more information, visit www.arts.uci.edu.
About the University of California, Irvine: Founded in 1965, UCI is the youngest member of the prestigious Association of American Universities and is ranked among the nation's top 10 public universities by U.S. News & World Report. The campus has produced five Nobel laureates and is known for its academic achievement, premier research, innovation and anteater mascot. Led by Chancellor Howard Gillman, UCI has more than 36,000 students and offers 224 degree programs. It's located in one of the world's safest and most economically vibrant communities and is Orange County's second-largest employer, contributing $7 billion annually to the local economy and $8 billion statewide. For more on UCI, visit www.uci.edu.
Public photo stream (Flickr).
Photography and caption key for press (Google Drive). Photography credit: Jeanine Hill.
Posted Date:
Tuesday, July 26, 2022 - 17:00