Faculty Research: Lighting and Sound Labs Enhance the Drama
When the lights fade and the music builds, an audience of theater-goers can feel transported—before the action even starts. That's why drama faculty in the Claire Trevor School of the Arts focus on creating high-tech sound and lighting labs that help students produce top-quality shows and then excel professionally. "The lighting and the sound design together create the rollercoaster for the audience to go on, moment to moment," explains Jaymi Lee Smith, professor of drama and head of the lighting design program at UCI. "We set the atmosphere and emotions for a production."
Unique Sound Studio
Most people passing by the Contemporary Arts Center at UCI have no idea that one of the most impressive sound design studios anywhere in the U.S. is right under their feet. Tucked underground, the Meyer Sound Design Studio plays multiple roles for the Claire Trevor School of the Arts. It's a recording studio that produces music and sound for theater and dance performances in the school, a classroom for undergraduate and graduate sound designers, and a working laboratory for students to experiment with and prototype sounds.
"It's not just a space to record and create in, it's a space to play back and experience in, and in that respect we're very different," says Mike Hooker, Professor of Drama and Head of Sound Design. "When it comes to the unique needs of a sound designer, I think this studio is one of a kind." Hooker meticulously designed every aspect of the three-room sound studio, from the diffusion panels on the ceiling to the patch of sprung hardwood floor. He also secured a $300,000 gift from the Berkeley, Calif.-based Meyer Sound Laboratories in 2008 to supply their top-of-the-line sound equipment as well as scholarship support for talented sound design students.
Meyer Sound has remained a strong partner with the school over the past decade, hosting UCI students for tours of their headquarters where they build their speakers, and also holding training sessions at UCI for professionals across the region, using the school's theater spaces. The company has even hired four alumni of UCI's sound design program. Part of what makes the space so special is a room with pipe grid overhead and speakers all around it, that can be moved around to emulate the way they would be laid out in a specific theater space, and to experiment and test the sounds.
---
"We set the atmosphere and emotions for a production."
---
"The environment felt like an experimental audio laboratory instead of just a studio," says Matt Glenn, M.F.A. '14, who co-founded Ears Up Sound Design with fellow UCI alumnus Mark Caspary, M.F.A. '15. The team provides sound design for theme parks, theatrical shows, museums and other installation projects. "It left an imprint for us, and when we created our studio, we took that idea of being able to experiment and prototype to the point that it's central to our business model now."
New Lighting Lab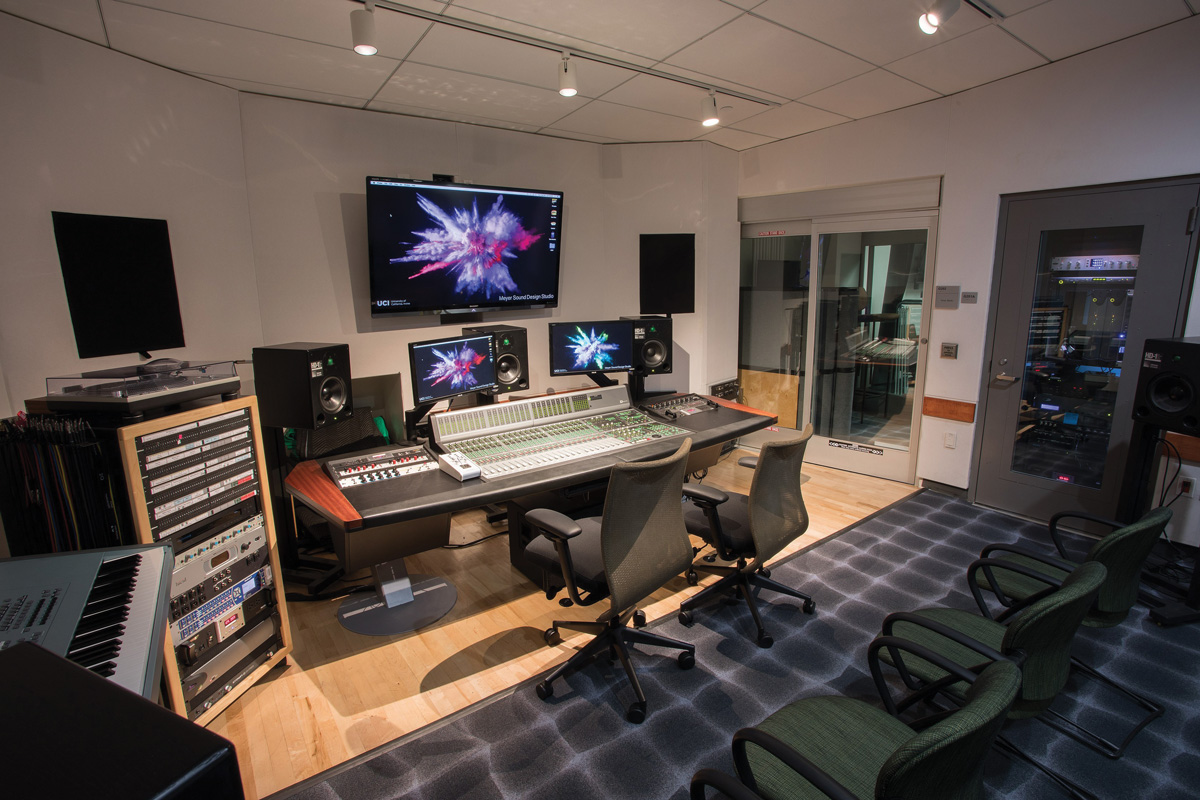 Along with  sound, carefully crafted lighting designs create atmosphere and emotion in performances. Last year, the Department of Drama received a $277,000 grant from UCI to convert a classroom in the Drama Building into a lighting lab. Named The Cam Lab in honor of professor Cameron Harvey, who founded the lighting design program in the 1970s, the upgrades dramatically improve UCI's ability to teach lighting concepts. "It's hard to talk about lights without seeing them, so this space is our laboratory, just like scientists have laboratories," explains Smith.
The room is set up as a flexible theater space in a 1:6-scale model, about the right size for Barbie dolls. It is equipped with dozens of scale-size incandescent lights, LED lights, moving lights, pixel-mapping units and control boards, as well as the software to previsualize full lighting setups program and cue the lights. Serving as both a classroom and a lab, the space enables students and faculty to quickly iterate their lighting ideas before taking them to the final venue. "It can be frustrating for faculty as well as students to teach and learn lighting as a purely theoretical set-up," says Smith. "Having the light lab was incredibly helpful to demonstrate the lighting alongside our lectures, and to allow students to test out their ideas."
Both the lighting design and sound design program train up to six graduate M.F.A. students at a time, and even more undergraduate honor students. In addition to training students with a strong background in theater, the programs pride themselves on preparing students for success in commercial industries. Alumni from the programs have been hired to lend their talents to theme parks and touring music concerts, while others have started their own lighting and sound design businesses.
Maintaining the Magic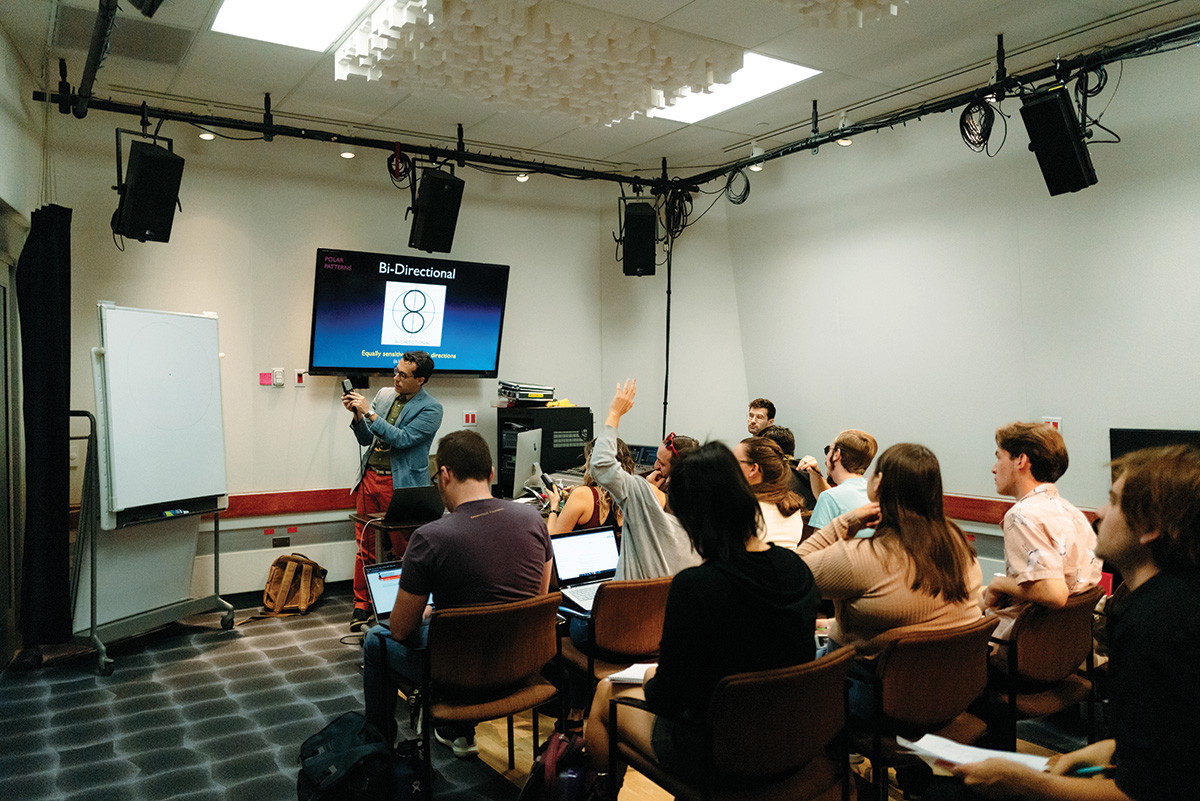 Both Smith and Hooker see the need for ongoing improvements to the facilities and equipment to provide top-notch training to their students. For Smith, this means more equipment for the full-scale theaters such as moving lights and LEDs. "Our eyes continually white balance, as a culture," says Smith. "Bluer light looks like white light to us now, so we have to start converting our old units to LED, to make sure our school's productions look current." Hooker's biggest challenge is keeping software up to date and high-quality equipment in good working order. The industry's rule of thumb is that annual maintenance should cost 10% of the value of the equipment — and Hooker has $1.5 million worth of equipment that students use — with no pre-set budget for maintenance.
"When lighting and sound work in concert with one another it's nothing but pure magic," says Hooker. "Something as simple as lights fading out and music fading up, the look and feel of that aesthetic is something so beautiful you can't describe it."
---
Learn more about the UCI Drama MFA Design programs at drama.arts.uci.edu/graduate-programs/design/mfa-design
Read the full version of the quarterly magazine for UCI Claire Trevor School of the Arts
Photos by Will Tee Yang and Mike Hooker
Please visit our secure direct giving page and make a gift to support Drama today!
CONNECT - Winter 2020