Hooked from the Start
Professor Michael Hooker receives top honor for career achievement in sound design
By Jill Kato
Professor Michael Hooker has received the 2022 Distinguished Achievement Award in Sound Design from the United States Institute for Theatre Technology (USITT), the premiere organization in his field.
Hooker has a funny story about accepting, or rather almost not accepting, the USITT Distinguished Achievement Award, which honors individuals for their meritorious careers. The organization's annual conference did not take place in-person due to the pandemic and because of that, Hooker had forgotten to pay his membership dues. So, when he saw an envelope from USITT amongst his pile of mail, he assumed it was a bill, and pushed it aside. He did not end up opening it for an entire month.
"It was quite a shock," Hooker says about when he finally opened the announcement. "I still don't know what to say."
Luckily, he wasn't too late to accept the award.
"I'm absolutely honored and wonder how I'm worthy of it. I feel like I have imposter syndrome," he says.
Designing Worldwide  
Hooker may feel like an imposter, but the recognition  seems obviously warranted to anyone surveying his career. He has designed sound and composed music for more than 125 productions, including Looped at the Lyceum Theatre on Broadway. His regional theatrical designs have been heard in Oklahoma! at the Oregon Shakespeare Festival, composer for the world premiere of Quack and sound design for Pyrenees at the Kirk Douglas Theatre, and Sunday in the Park with George at The Repertory Theatre of St. Louis.
He's also worked on numerous productions at South Coast Repertory and Pasadena Playhouse.
As a commercial sound designer and composer, Hooker has designed sound and produced music for themed entertainment productions all over the world. He recently composed attraction and background music for the Quest theme park in Doha, Qatar, and composed the music score for a Samuel Oschin Planetarium show at the Griffith Park Observatory.
Prior to joining the faculty at UCI, Hooker spent six years as Senior Media Designer for Walt Disney Imagineering, where he produced sound and music for Disney theme parks worldwide.
In His Blood
Hooker has been very successful commercially, but teaching is in his blood. Both of his parents are teachers, and at a young age, Hooker began teaching swimming and piano lessons.At the University of Arizona, he was asked to teach a course on theater sound design as an undergraduate and was hired on as faculty after he graduated. As a graduate student at the California Institute of the Arts (CalArts), he developed the school's sound design program while simultaneously earning his M.F.A. in performing arts design and technology. As an associate professor at the University of Cincinnati, College-Conservatory of Music (CCM), he created their M.F.A. and B.F.A. programs in sound design.
My personal saying is sound is half the show.
That's Sound Design!
Hooker's interest in sound design started in childhood when he would tinker with his family's stereo equipment.
"I was that nerdy kid who helped set up the movie projector in elementary school," he says.
In high school, Hooker discovered musical theater. He set up the school's sound system and played piano in the orchestra pit as well. When his school's theater productions needed a particular sound effect, it was Hooker who'd search through old sound effects records to find the right sound.  Because it is hard to use records for theater productions, Hooker would then record the sound to a cassette tape to play in the theater.  
"It wasn't until my mentor in college said, you dummy, that's sound design, did I realize what I had been doing," Hooker says, laughing.
Since he was one of only a few students interested in sound design at the University of Arizona, he ended up working on five to six shows every season.   
A Storyteller at Heart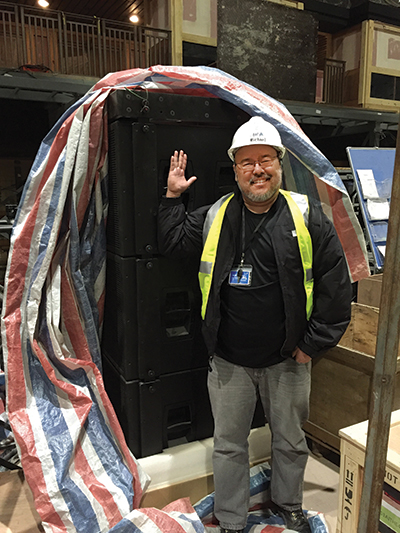 "My personal saying is: Sound is half the show." He explains how sound design can bring clarity to a narrative. If something isn't being explained through dialogue, sound can fill in the gaps. As an example, Hooker suggests streaming anything on TV and turning off the sound. How much of the story can be understood? He then suggests turning on the sound and not looking at the screen.
For Hooker, sound design is all about storytelling.  He reminds his students not to lose sight of the narrative in every decision they make.  
"No disrespect to those working on visuals, but I bet you'd probably understand more of the story by just listening," he says.
Image (left): Hooker standing in front of the giant subwoofers being installed for the show he designed, Tarzan, at Shanghai Disneyland.
Variety is the Spice of Life
Hooker will be honored in a ceremony for all USITT winners in March, where he will be interviewed by UCI colleague Vincent Olivieri and his former student turned colleague, Drew Dalzell. The interview will take place in front of a live audience. Hooker is close to Olivieri and Dalzell and jokes that the live interview could result in "mutually assured destruction."
"I'm terrified it'll end up a roast," he says, laughing.
Although Hooker has worked on over 125 productions, he says it never gets old.  The variety is what he loves most about his profession.  
"It's different every time—the process, the people.  Each production must be rebuilt from the ground up. I've designed shows more than once and each manifestation is different. I enjoy watching the audience connect with the whole production.  When everything works and gels together, those are magical moments I live for."
---
To learn more about Michael Hooker and the the M.F.A. in Sound Design in the Department of Drama, visit sound.arts.uci.edu.
Please visit our secure direct giving page and make a gift to support Drama today!
CONNECT - Spring 2022