Jeffrey Lo Strives to Connect Theater with Diverse Communities
By Richard Chang
Since graduating from UC Irvine in 2010, Jeffrey Lo has kept busy.
He has stuffed a résumé full of accomplishments while pursuing theater in Silicon Valley — not exactly the first place you might think of when it comes to live theater. But he's a San Jose native, so blazing trails at TheatreWorks Silicon Valley — where he's director of community partnerships and casting — comes natural to him. Now he's making waves in the greater San Francisco Bay Area theater scene, as both a playwright and a director.
"I've been thinking about Black Lives Matter and voting rights, and efforts to try to make our country a better place."
Lo obtained dual bachelor's degrees in drama and literary journalism at UCI. "I always reckoned myself a writer," said the 33-year-old Filipino American. "I thought I had a talent for words. That sort of intersected when I took theater. I discovered the power of being able to have your voice, and the power of representation."
Since graduating, Lo has written numerous plays, including A Kind of Sad Love Story, Dealing Dreams and Writing Fragments Home, which was a finalist for the Bay Area Playwrights Festival and a semifinalist for the National Playwrights Conference at the Eugene O'Neill Theater Center in Connecticut. He has also directed several performances across the Bay Area.
Other accolades include the Leigh Weimers Emerging Artist Award, the Emerging Artist Laureate by the Arts Council Silicon Valley and the Theatre Bay Area Directors' Titan Award.
Plus, he has directed and written meaningful works in times of COVID-19 and social unrest and awakening. He just finished directing Hold These Truths, a one-man play by Jeanne Sakata about Gordon Hirabayashi, a Japanese American who resisted incarceration during World War II and fought the executive order all the way to the Supreme Court. Hold These Truths had successful runs at the San Francisco Playhouse and Capital Stage in Sacramento — the first live productions at each theater after the coronavirus pandemic shut down live, indoor events for more than a year.
"We're telling a very human story about someone who fought for what he believed in" and ultimately won, Lo said during a Zoom interview. "Why are we telling that story now? There are modern-day equivalents: the detainment of migrants on the border, children on the border, the 2016 Muslim ban.
"Unfortunately, with the enormous and terrifying rise of hate crimes against Asian Americans, there's a lack of empathy that some people carry toward the Asian American community. There's a sense of otherness, and othering. We've been portrayed as two-dimensional, as villains.
"I've been thinking about Black Lives Matter and voting rights, and efforts to try to make our country a better place."
A Time to Reflect
Just before COVID-19 shut everything down in March 2020, Lo was scrambling to open two plays at two different venues within 10 days.
"It was a long string of going back to back to back, and I was honestly quite tired," he recalled. "(The shutdown) reminded me to take a rest. I was still working, but it really allowed myself to take a breath and live life. And it also taught me to not take for granted the work.
"I realized telling stories is a real privilege. I was like, OK, how do I make sure when I do get this privilege back, how do I make sure it counts?"
It was during the lockdown that Lo and some colleagues co-founded Our Digital Stories, a series of short works set within the digital world — video chats, phone calls and texts. The 10-minute pieces were live streamed on Twitch, and money raised through these monthly digital shorts went to community organizations such as Compassion in Oakland, which provides chaperones for elderly Asian Americans when they need to get out and about town without being harassed. The group raised $30,000 for Compassion in Oakland, Lo said.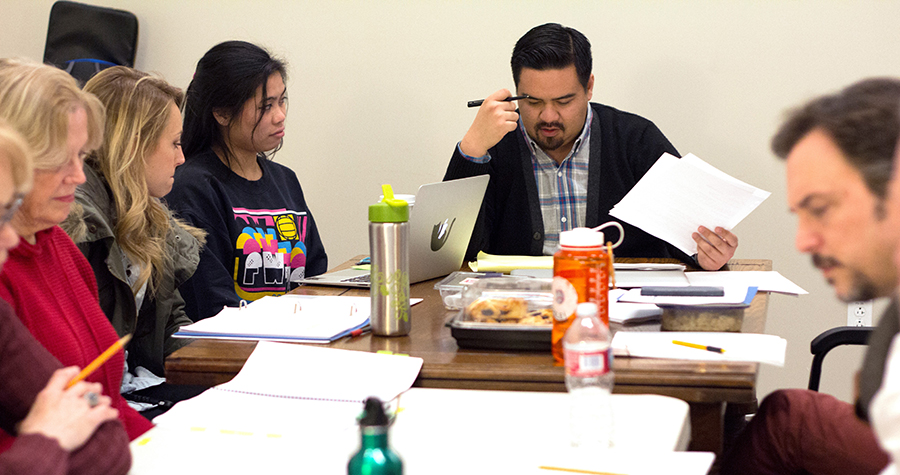 Image: Jeffrey Lo in rehearsal for his 2016 production of Chekhov's Uncle Vanya,which won the San Francisco Bay Area Theatre Critics Circle Award for best production. (Photo: Myra Mejia)
"I take a look at people who were hit the hardest," he said. "There are so many people from marginalized communities. How can I make them feel more welcome in my theater spaces? I hope they feel more welcome in this country. I hope they don't feel like they're other. My hope is we can use our art and all forms of it to create community."
Weslei Gabrillo, a 2008 UC Irvine graduate in drama and social science, is an actor who has starred in several plays that Lo has written or directed. He says Lo leads with "empathy and humor" and is "a good, solid fellow" who's extremely approachable.
"One of the key things that stands out to me is he brings people together," said Gabrillo, who lives in the East Bay city of Walnut Creek. "It's just his ability to be able to talk with folks from various backgrounds. He's very attuned to where folks are coming from, and what they bring to the table. He can bring a cast together."
"I realized telling stories is a real privilege ... how do I make sure it counts?"
Lo thinks back on UCI and points to his days as a resident advisor in the dormitories. That's where he first developed his leadership skills.
"Three years of working in student housing was really formative for me," he said. "I wanted a job, I wanted to stay living in the dorms, but didn't have the best reasons in the world. In terms of leadership and managing people and meeting people who were working selflessly, that's where it started."
Lo also recognizes Keith Fowler, professor emeritus and former head of directing in the drama department, and drama professor Cliff Faulkner as being influential teachers.
Faulkner "made us think about theater and performance as a whole, not necessarily cookie-cutter musicals," Lo said. "He taught us about theater from the other parts of the world. He also had us consider circus, acrobats, music and puppetry as theatrical performances."
Lo credits an introduction and letter of recommendation from Faulkner as helping him get into a summer program at the prestigious Oregon Shakespeare Festival.
Coming out of the pandemic, Lo hopes to continue his work in theater and make it more accessible to diverse audiences.
"I'm thinking about access — access to theater, access to storytelling," he said. "Theater and theater-going can be a pretty exclusive club. As we're able to do this again, we're remembering how fortunate we are, and what human interaction really means. Maybe we took it for granted. Theater-making is inherently a community-building activity. If you go back to the Greeks, everyone was assembling around the amphitheater. It's really a community-based endeavor."
---
Learn more about Jeffrey Lo and upcoming productions at www.jeffreywritesaplay.com.
Please visit our secure direct giving page and make a gift to support to CTSA today!
CONNECT - Fall 2021