Stage Management Student Sam Allen Awarded 2023 Cody Renard Richard Scholarship
Sam Allen, a third-year Drama M.F.A. candidate in stage management, received the 2023 Cody Renard Richard Scholarship. Allen was one of ten students selected for this year's cohort. Recipients received a $10,000 grant for the academic spring semester as well as networking, mentoring, and team-building opportunities. Additionally, the students were awarded an all-expenses-paid trip to New York City to experience the Broadway theatre scene firsthand.
The Cody Renard Richard Scholarship Program, now in its third year, strives to promote diversity and inclusivity in the theatrical industry. With a specific focus on students of color, including Black, Asian, Latinx, Indigenous, and others, the program aims to encourage their pursuit of degrees in theatrical management and non-performance artistic fields. By offering support and mentorship, the program cultivates a space for the next generation of leaders, ensuring their unique contributions are welcomed and valued. The program also facilitates connections between scholars and established community leaders of color, fostering a supportive network that enables their growth and success in the industry. Through the creation of a tight-knit community of scholars, the program emphasizes collaborative learning and understanding, empowering them to play a pivotal role in building a more vibrant and equitable theatrical landscape for the future.
"CRR Scholarship Program provided me with a platform to receive techniques and resources that showcase the tangible capabilities of our artistry," said Allen. "Being able to connect/foster relationships with fellow artists of color who place an emphasis on humanity and accessibility to the form is an experience I'll hold onto for the rest of my lifetime."
The 2023 recipients include Sam Allen (University of California, Irvine), Héctor Alvarez (California Institute of the Arts), Isaiah Boozer (DePaul University), Kairo Chin (University of California, Santa Cruz), Talia Escobedo (Columbia University), J.D. Hopper (Carnegie Mellon University), Caylah Johnson (DePaul University), Anaya Matthews (The New School), Xotchil Musser (Carnegie Mellon University), and Adam Wassilchalk (Yale College).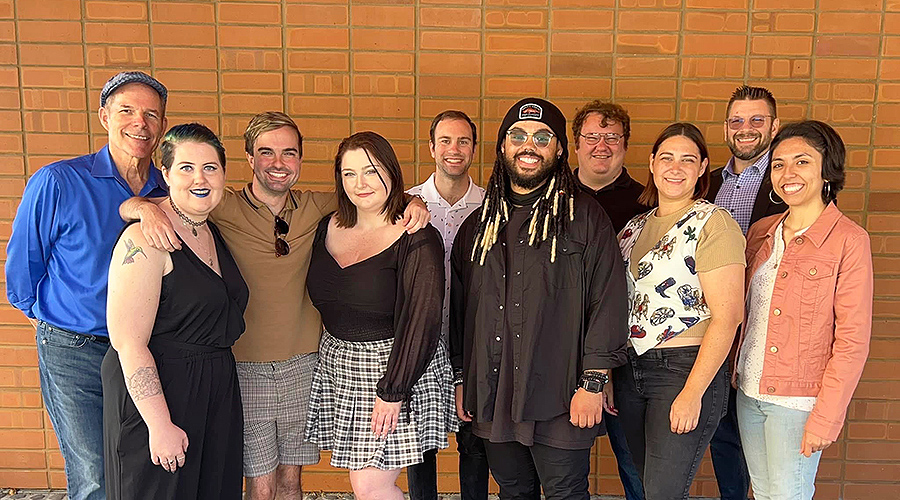 Image: UCI M.F.A. candidates and graduates in the Department of Drama's stage management specialization. (Left to right) Department Chair Don Hill, Bri Westad ('23), John Pinero ('23), Jessie Bender, Logan Brubaker, Sam Allen, Jake Arpaia ('23), Nicole Cortese, Vice Chair Joel Veenstra, Johanna Sophia Romo.
The 2023 selection committee included founder Cody Renard Richard along with Lawrence Bennett, Jhanaë Bonnick, Dria Brown, Yang-Yang Chen, Ann James, Zhailon Levingston, Tina McCartney, Laurie Woolery, and Nzinga Williams. Lani Fu serves as the program manager.
The program is supported by the Seller-Lehrer Family Foundation as well as The Miranda Family Fund, Broadway Cares/Equity Fights Aids, Jujamcyn Theaters, the Tiger Baron Foundation, Stacey Mindich, The Theater Leadership Project, Kevin McCollum, Tommy Kail, Junkyard Dogs, Jenny Steingart, and Jill Furman. The Seller Lehrer Family Foundation serves as the lead sponsor.