Student Research: Gretchen Diane Ugalde
New Tools for School
Students at the Claire Trevor School of the Arts explore the human experience through a variety of creative avenues by using skills as classically trained fine artists, but also through emerging technology and media. Students from all four departments have access to a range of media that allows them to reshape how art is created and experienced. We asked a few students who are utilizing these tools and spaces to share with us.
For this article, we interviewed Gretchen Diane Ugalde from the Department of Drama.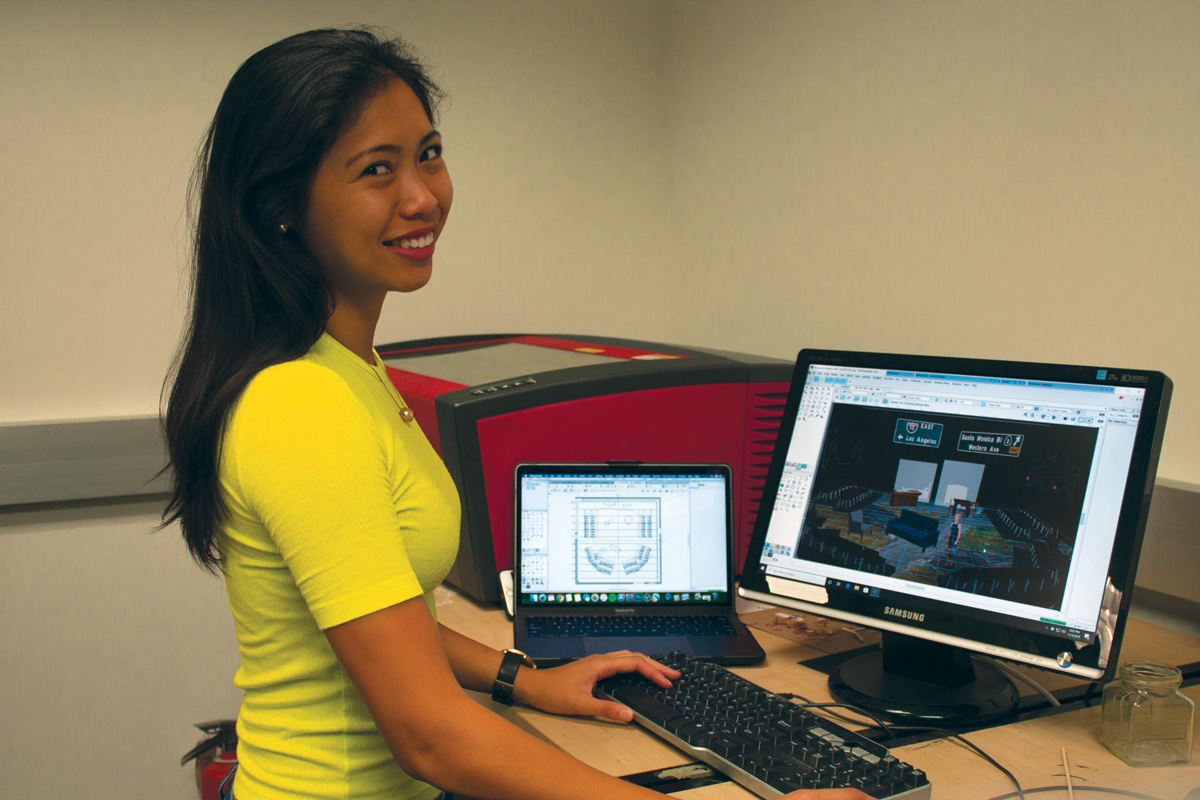 Gretchen Diane Ugalde
Department of Drama
B.A. in Drama, Emphasis in Scenic Design
Graduated, Spring 2019, Continuing Education Student
Career Goals:  "I would love to keep working in theatre as a set designer. I also have an interest and desire to work in event and set design for fashion runway shows."
As a theatre design student, Gretchen Ugalde works with multiple applications and technology. She enjoys taking studio classes offered in the Department of Art, which helps her develop ideas when thinking about designing for the stage. "I love bringing what I've learned from art classes to my drafting or theatre design classes," says Ugalde. "It is a pleasure to create the visuals that style a play and engage with the audience." Ugalde has been tapped to set design for the drama department's upcoming production of Living Out in March 2020, a play written by Lisa Loomer and directed by Jane Page. Ugalde uses the applications Vectorworks and Photoshop to communicate her designs to the rest of the creative team. The equipment she appreciates using most is the laser cutter for model making to give her designs the 3D quality to convey her visual design.
Do you have a mentor at Claire Trevor School of the Arts?
"Lonnie Alcaraz (Head of the Lighting Program and Interim Head of the Scenic Program in the Department of Drama) is a professor that I am so very thankful to have met in CTSA! His care and attention to his students creates such a wonderful environment to grow as an artist. I am so very grateful for all he has taught me, from my technical skills to how to best carry myself professionally and personally in the theatre industry. I wouldn't be the theatre artist I am today if not for the training, care and opportunities Lonnie has given me!"
Read the full version of the quarterly magazine for UCI Claire Trevor School of the Arts
---
Please visit our secure direct giving page and make a gift to support Drama today!
CONNECT - Winter 2020