UCI Claire Trevor School of the Arts Announces the 2022-23 Claire Trevor Society Scholars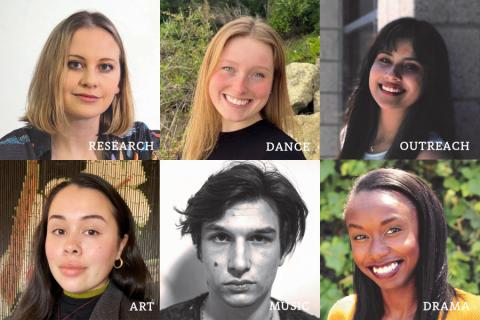 UCI Claire Trevor School of the Arts (CTSA) is pleased to announce the next cohort of Claire Trevor Society Scholarships recipients for the 2022-23 academic year. Each year the Society awards six merit-based scholarships to exceptional students majoring in the Departments of Art, Dance, Drama and Music, as well as the areas of community arts outreach and research and innovation.
The Claire Trevor Society Scholarships intend to help talented undergraduate and graduate students further their artistic or scholarly goals, allowing them to take their work to the next level of creative excellence. Scholars are chosen based on demonstrated excellence within their field, and engagement in cutting-edge research that advances the arts at UCI. This year, recipients will receive monetary support in the amount of $2,000 each.
Veronica Allen, B.F.A candidate in Dance
Dance Awardee
"I am extremely honored to be a recipient of the Claire Trevor Society Scholarship. Words cannot adequately express how impactful and appreciated The Claire Trevor Society support is. Their generosity allows us to keep the arts and dance relevant in the lives of many."
Isaac Hayes, Ph.D. candidate in Integrated Composition, Improvisation, and Technology
Music Awardee
"This scholarship allows me to continue learning and growing as an artist, and to thrive both personally and artistically, now more than ever."
Mary Hill, M.F.A candidate in Drama
Drama Awardee
"This scholarship has opened an opportunity for me to jump right into the artistic pool, where the possibilities of evolving the way art is being projected is endless. I am greatly appreciative, and the aid provided from this scholarship will immensely benefit me throughout my journey."
Mafer Reyes, B.F.A candidate in Dance
Community Arts Outreach Awardee
"I'm deeply appreciative of The Claire Trevor Society's support that will not only alleviate my financial burden but also enhance my learning experience. With this assistance, I will be able to cover school expenses and fulfill my goal of creating a welcoming environment for all minority dancers."
Alexandria Ryahl, M.F.A candidate in Art
Art Awardee
"It means so much to me to receive the Claire Trevor Society Scholarship. This generous support will have a meaningful impact that will last long after I graduate."
Liz Stringer, M.F.A candidate in Art
Research & Innovation Awardee
"It feels incredibly inspirational and invigorating to receive this support for my fine arts studies at UCI. I have been given the opportunity to initiate moments of discourse and experimentation, and interdisciplinary collaboration between art and ecology."
The UCI Claire Trevor School of the Arts would like to thank the members of the Claire Trevor Society for their support of this scholarship program and for investing in the next generation of creative leaders. Congratulations to these promising artists!
About the Claire Trevor Society
The Claire Trevor Society (CTS) is a philanthropic membership program that financially supports areas of the UCI Claire Trevor School of the Arts. The Society provides a front door to the arts at UCI for alumni, parents, and friends to participate in exclusive experiences and network with fellow art enthusiasts, while receiving special recognition and opportunities to engage in the school's growth.
Contributions to the Claire Trevor Society enable the Dean to provide essential support for student scholarships and fellowships; cutting-edge arts research; and innovative exhibitions and productions.
The Society offers various membership levels to join along with a variety of benefits. For more information on ways to give, please visit the Arts website at www.arts.uci.edu/claire-trevor-society. For questions or more information please contact us at clairetrevorsociety@uci.edu or call (949) 824-0629.
Posted Date:
Thursday, June 16, 2022 - 17:00