Parade: An interview with director Myrona DeLaney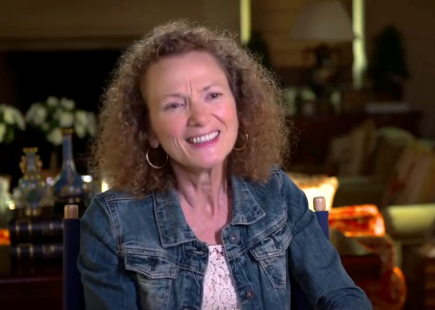 Director Myrona DeLaney
Drama Chair Daniel Gary Busby sat down with director Myrona DeLaney to discuss UCI Drama's upcoming production of Parade:
Drama Chair Daniel Gary Busby: The Drama Department's theme this season is THEM!, and features plays that examine the human tendency toward divisiveness and casting blame on "the other." Why do you feel this season, and Parade in particular, are important to present at this moment in history?
Myrona DeLaney: First, let me say that this is a work I have wanted to direct here at UCI for years, and I'm thrilled that we have the opportunity to produce it as part of our upcoming season. Not only is this show artistically beautiful, it also offers a rich, layered narrative that asks actors and audience alike to actively engage with the material. In some sense the themes explored in Parade are timeless, and though the story takes place in 1913 Georgia, we – as individuals and as a society – still show the same tendencies toward the groupthink and scapegoating present in the Frank case.   That said, I feel a responsibility to tell this story so that a 21st century audience connects to it in a personal way; how do the language and events depicted here mirror or set the stage for the divisive rhetoric in today's public conversation?  As media outlets and access to channels of mass communication proliferate, there is an increased opportunity for immediate reactionary response and rapid escalation. This shows up not only in the political arena, but in everything from professional sports to international business, and of course in entertainment. Theatre is here to give voice, and that's what we hope to do – give voice not only to the characters in this story, but also to those who are feeling alienated or wronged in today's public conversation.
DGB: Parade is based, fairly closely, on historical fact. How much research into the real Leo Frank case and its socio-historical context did you do, and how did it affect your approach to the play?
MD: Interestingly, while this case took place over 100 years ago, it has taken on a rich life online and in various narrative and documentary incarnations. Once I began reading about Leo Frank and the history of this case, I was drawn in by the complexity of the people involved and the historical moment in which this took place. The more I learned, the more I realized how important it would be to contextualize these events – not to excuse any part of them, but in order to understand more about the characters and the deeply rooted layering of their thought patterns and other motivating factors of the time. For that reason, looking into the story of Leo and Lucille became an investigation of migration patterns, child labor, the role of women, racial and religious tensions, and the post-Civil War south at large. Pieces are still being written almost daily on this case; it seems to have caught the public's imagination with a staying power that few cases in history have.
DGB: This story takes place in 1913 Marietta, Georgia and sits at the crux of tensions between Jew and gentile, north and south, black and white; you have remained true to the language of the script, parts of which can be difficult to hear. How do you maintain empathy for all the characters, and prevent them from appearing as stereotypes?
MD: Some of the terminology is difficult to hear, but since this story does exist at the nexus of – and in fact, is the result of – these dichotomies, I felt it was important to stick to the script as written.  After all, language is the weapon so often brandished in our alienation of each other, both as individuals and societal groups, and its force and power cannot be overstated. As such, the offensive terms and colloquialisms of the day will stand as critical elements in telling this tale of mutual alienation and hostility.
DGB: Which character undergoes the most transformation in the story, and how is this manifested?
MD: I would have to say that the character of Lucille Frank not only undergoes the most profound transformation, but also acts as a sort of "Greek chorus" throughout the production. She has the interesting distinction in this story of being both Jewish and a native Southerner, and as events transpire, she becomes aware of potential conflicts in those two mindsets. Over time she becomes conscious of how she will choose to process and react to the events of her life outside of these identifiers, eventually deciding to stand by Leo while still proclaiming "I'm a Georgia girl. I always will be."
DGB: How is the process different for you, as an educator and mentor, when working with actors on material that may be particularly emotionally charged?
MD: I recognize that working with a creative team on a project like this comes with great responsibility, one that is perhaps heightened within the process of directing educational theatre. When directing material that may contain emotional triggers for the actors involved – or for any of the creative team, for that matter – it is crucial to keep conversation open and fluid throughout the rehearsal process. I am mindful of the fact that monumental ideological divides begin as feelings of interpersonal alienation, and I'll never hesitate to stop rehearsal in order to address and discuss feelings that are occurring outside of the creative process. Working on a show like this is a terrific growth opportunity for our students both as artists and as individuals, but I try never to lose sight of my responsibility to maintain a safe and mutually respectful creative space in the face of challenging material.
DGB: From a design aesthetic, how are you conveying the feel of this specific time and place in history? Do you consider the physical location a "character" in the play?
MD: Though this story takes place nearly 50 years after the conclusion of the Civil War, the design team and I feel it's important to convey some feeling of the grandeur of the Old South. This was a time of rebuilding during which the citizens of Georgia were committed to the nostalgia of the antebellum period, and to the pledge that "the south will rise again." They still had the unified mindset of a people invaded, which led in great part to the resistance to northerners like Leo Frank. I believe that the ideal – and idealization – of pre-war Georgia and its way of life is much a part of the conflict in this story, and I hope to give it a textural and visual prominence in our production.
DGB: The best theatre offers emotional catharsis while stimulating critical thought. What do you hope audiences will take away from their experience of Parade?
MD: I think one thing this play does really well is to present the history of this case from many perspectives, through characters that are three dimensional and complex. This was a fraught time, and while much wrong was done in the course of these events, I want to present the history with as little judgment as possible and let it speak. People are forever trying to rise to the top by pushing others down, and if we can each recognize our part in this – and if this show can open up constructive discussion on how to remain conscious and not repeat old mistakes – then we have done our job in contributing to the larger conversation, which is ever evolving but never finished.