Blue Light
Production: Blue Light
Blue Light, the world premiere of a multi media performance about the pursuit of wonderment in the abandoned Blue Light silver mines in Orange County. Entwining text, projection and movement, the viewer goes on a familiar journey of reckless abandon fueled by rock and roll and the lure of risk taking.
Based on a true story.
Created in collaboration by director Annie Loui and writer Michelle Latiolais
Workshop June 2009, Full Production January 2010 in the Studio Theater, UCI
Supported by a UCIRA grant for Emerging Fields/Visual Arts Practice and Research
video design Greg Pacificar
lighting and projection design Adam Levine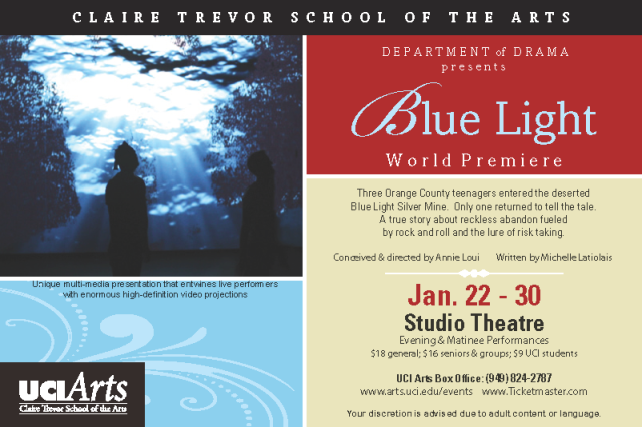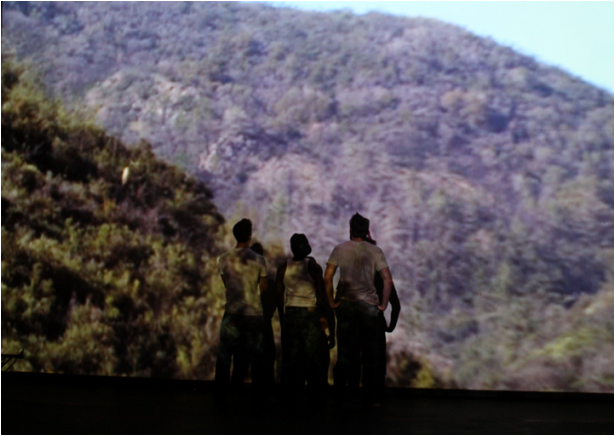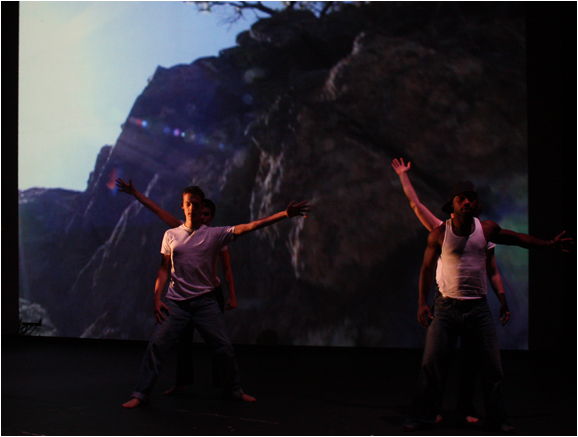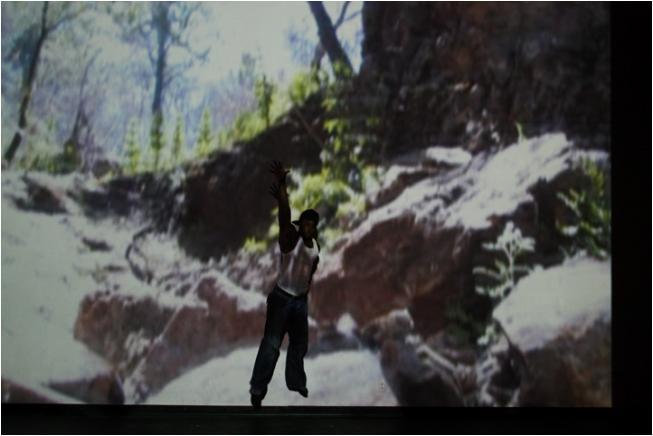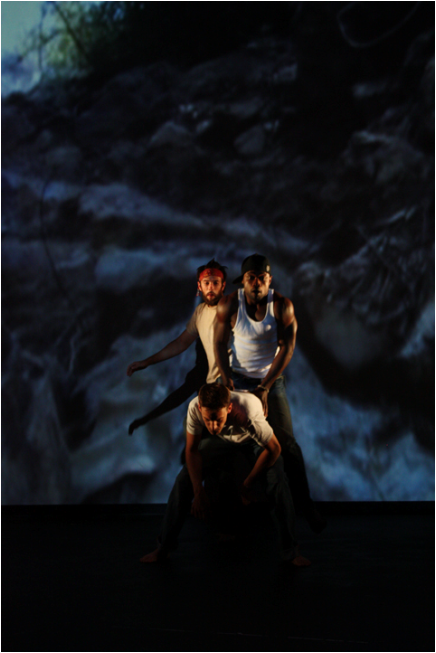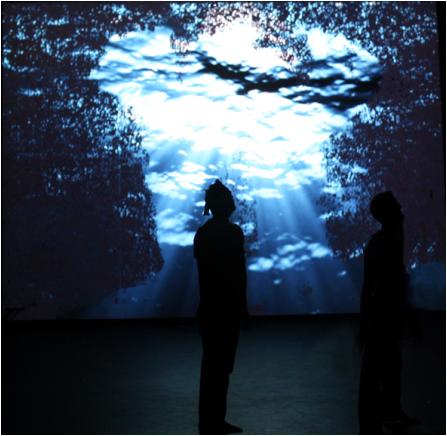 Artistic Personnel: Blue Light
Bio for Annie Loui: director/creator
Annie Loui works as a director/choreographer and creator of inter-media theater works. She trained with dancer Carolyn Carlson (at the Paris Opera), and studied in France with Etienne Decroux, Ella Jarosivitcz and Jerzy Grotowski. Original dance/theater pieces have been seen in France, Monaco, West Germany, and in the United States at Jacob's Pillow Dance Festival, among other venues. She has choreographed for the American Repertory Theater, Trinity Repertory Theater, and off-Broadway for the Signature Theater. Her favorite directing project is the world premiere of Chuck Mee/ Nathan Birnbaum's play /opera WAR TO END WAR. Intermedia performance creations include READING FRANKENSTEIN at the Beall Center for Art and Technology, IN THE GRACE OF THE WORLD commissioned by the Orchestra of St Lukes, NYC and her FALLING GIRL inter-active video installation with Scott Snibbe exhibited at the Berkeley Art Museum June- August 2008. . She has received several Massachusetts Council Awards, a Massachusetts Choreographer's Fellowship, a Belgium Artist's Abroad Award, and an NEA New Forms Grant. Her book The Physical Actor was published by Routledge in summer 2009.
Bio for Michelle Latiolais: writer
Michelle Latiolais is a Professor of English at the University of California at Irvine. She is the author of the novel Even Now which received the Gold Medal for Fiction from the Commonwealth Club of California. Her second novel, A Proper Knowledge, was published in 2008 by Bellevue Literary Press. She has published writing in three anthologies, Absolute Disaster, Women On The Edge: Writing From Los Angeles and Woof! Writers on Dogs. Her stories and essays have appeared in Zyzzyva, The Antioch Review, Western Humanities Review and the Santa Monica Review. Most recently she had work in issues of the Iowa Review and the Northwest Review.
Bio for Greg Pacificar: video designer
Gregory has been working with Cornerstone Theater Company in Development and the Video Designer for such shows as, Los Illegals, Warriors Don't Cry, 365 Days/365 Plays and Attraction. He is also a partner with The Narra Group, a multimedia production company in Los Angeles focused on addressing social conscience issues through media. Most recently he was directed a PSA for the South Asian Network addressing domestic violence in the South Asian community. In 2005 he was an artist-in-residence at Cornerstone Theater Institute and awarded the Getty Internship with Visual Communications. In 2000, he was selected as an Honoree of Project:Involve program, mentored by independent Writer/Executive Producer, Greg Berlanti (ABC's Brothers & Sisters). He also served as a mentor to foster youth in the GLASS program. Gregory received his BFA in Film/Television Production and Asian American Studies from Loyola Marymount University.
Bio for Caryn Heilman; assistant choreographer
Caryn Heilman danced with the Paul Taylor Dance Company for ten years (and is featured in the Emmy-nominated documentary film, Dancemaker) before founding LiquidBody media, movement and dance where she explores a fluid-systems approach to dance with hybrid improvisational choreographic structures that include audience interaction, multimedia, live music and aerial dance. She has received scholarships from the American Dance Festival, Alvin Ailey and an MFA Fellowship from the University of California, Irvine (Dance and Technology). Touching Gravity 2/Tilt is her most recent commission in 2008 by New Radio and Performing Arts, Inc., (aka Ether-Ore) for its Turbulence web site (<http://turbulence.org/Works/touching_gravity/>http://turbulence.org/Work...) made possible with funding from the Andy Warhol Foundation for the Visual Arts with additional support from Frank and Barbara Peters through the Medici Circle award at UCI. She has an MFA from the University of California, Irvine and has taught the past two summers at Jacob's Pillow Dance Festival and Topia Arts Center (an arts and education center in development she founded with her partner Nana Simopoulos).
Bio for Adam Levine: lighting/projection designer
Adam Levine is a Lighting Design graduate student at the University of California, Irvine where he has designed two dance concerts: New Slate and Dance Visions in addition to Ubu Roi, Take Me Out by RIchard Greenberg. He just finished a projections design for the Alliance Theatre in Atlanta, Smart Cookie, and is looking forward to his thesis project where he will be using video projection as a means for lighting the stage.
Bio for John Agnew: video support
Jon Agnew received a Bachelor of Arts in Television and Film Production from
Northeastern University in Boston in 2002. Since that time, he has worked
as Director of Photography and Editor for a variety of film and television
projects, with clients including ABC, NBC, CBS, MTV, DreamWorks Pictures,
and Sony Pictures. Jon is also acting Video Facilities Supervisor for
the Studio Art Department at the University of California, Irvine.
Representative Text
El Mo
3. Corridor at El Modena High School. Classes are out for the day, and Glenn and Alfonso are on their way to water polo practice. They are both walking down the hall, reading the comments on an English paper they've just received back from Mrs. Martinez. They walk side by side and they're turning the paper or their heads, intent on reading the markings.
ALFONSO
She is so fucking strict.
GLENN
"Spellcheck will not solve your problems"--she actually wrote that on my paper!
ALFONSO
Cold, man.
GLENN
I love Into The Wild and she hates it.
ALFONSO
McCandless was stupid--he was asking for it.
GLENN
He was not stupid. He just wanted something other than this. (Glenn gestures at school.)
ALFONSO
Let me get this straight--McCandless takes a bag of rice and a bag of corn chips into the Alaskan Wilderness--that's brilliant?
GLENN
He had a rifle.
ALFONSO
Whatever. (Reading slowly Mrs. Martinez's writing.) "Krakauer is not above making up details if it serves his purposes. That would not be an issue if this were fiction."
GLENN
She crossed out an entire paragraph. I can't believe it. I worked really hard on that paragraph. And what!? She thinks "impacts" a weak verb!
ALFONSO
What'd you get?
GLENN
Whatever. I'm gonna pass.
ALFONSO
You sure?
GLENN
How old do you think Mrs. Martinez is?
ALFONSO
Oh, Glenny.
GLENN
No. Come on. How old?
ALFONSO
Thirty something. You're going to make her a mix, aren't you.
GLENN
Maybe.
ALFONSO
Make sure you put our best songs on it.
GLENN
Do we have any?
(Alfonso and Glenn stand, watching the women's water polo practice.)
GLENN
Man, I hope Caputo is not up our asses today--
ALFONSO
Wish away, man.
GLENN
Why did he let Sarah Greer be hole set--it's not fucking right.
ALFONSO
She kicks more whitewater than anyone.
GLENN
Fuck her and her huge mutant feet--
ALFONSO
They are good, though.
GLENN
Her feet?
ALFONSO
No, the girls' team.
GLENN
Yeah . . . they're much better than we are.
Sound of whistle blowing, actors move into place for water polo movement sequence 1. Three-way relays and swimming with the ball. An actor walks across stage handing Mr. Caputo a cellphone. Mr. Caputo blows the whistle--a long slow whistle--and the actors break from practice while Caputo takes the call. Glenn and Alfonso wrestle, hold each other down under water. This starts playfully and escalates into aggression.