Birds in DMZ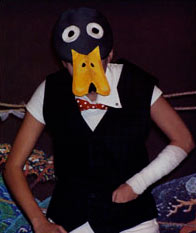 Arezzo International Theatre Festival
Italy, July 2006
University of California, Irvine
& Korean University of the Arts, Seoul
Pan Pacific Players Research and Collaboration
An adaptation of The Birds by Aristophanes
Adapted and directed by Eli Simon and Suk-Man Kim
Costume design by Madeline Kozlowski
Featuring Professor of Music Robin Buck, Rick Prigge (MFA 2006), RJ Romero (BA 2007), Laura Simms (MFA 2007), Jenn Evans (MFA 2007) with professional actors and musicians from South Korea and MFA students at Korean University of the Arts.
During this latest phase of Birds in DMZ:
1. The new trans-national language was tri-lingual: English, Korean, and Italian. Other languages used included French, Spanish, and bird gibberish.

2. The role of narrator (Italian) was added.

3. The company met in Italy to rehearse the play before performing at the festival.

4. The script was streamlined and physicalized.

5. A new Lost gods Interlude – featuring Robin Buck as the God of Music and Master Choi as the God of Song – was added.
The production once again combined performance elements of traditional Korean Mask Dance Drama, Commedia delle'Arte, instant transformation, clowning, classic Korean music, original masks, costumes, and scenery.