Living the Dream
M.F.A. student Blake Elliott returns to UCI after following career aspirations in New York City
By Christine Byrd
For students dreaming of a career in theater, nothing beats working on a New York City stage. Just ask second-year M.F.A. student Blake Elliott, who returns to UCI this winter after a whirlwind six months gaining professional experience in the Big Apple.
"I'm literally living the dream," said Elliott, who had just finished rehearsals for an off-Broadway show in a building overlooking Times Square. "Not only am I working exactly where I wanted to but doing exactly what I wanted to do."
That's a stark contrast from just a couple of years ago, when Elliott finished an undergraduate degree in stage management at the University of Evansville during the height of the COVID-19 pandemic. With no hope of finding work in theater at that time, Elliott returned home to Texas to teach middle school math and reevaluate the future.
Theater Machine
Elliott, who uses the pronouns xe, xym and xyr, grew up a shy, reserved kid in Houston, Texas – until a life-changing trip to San Antonio's historic Majestic Theatre to see Wicked.
"It's pure magic," Elliott remembers thinking while sitting in the audience, binoculars in hand. "This is the thing I want to do."
Soon, Elliott was taking musical theater classes and performing, eventually discovering the behind-the-scenes joy of stage management.
"The stage manager brings together all the cogs of the theater machine, greasing them to make sure nothing is grinding the gears," Elliott says. "We support the sustainable movement of that machine and we orchestrate artful storytelling."
While stuck in pandemic-limbo, teaching math after finishing college, Elliott started looking more seriously at M.F.A. programs and was drawn to UCI's Claire Trevor School of the Arts for a number of reasons, including the graduate student funding package and the campus' commitment to fostering an anti-racist environment. But what stood out the most was the Department of Drama's overall approach to training stage managers as unique individuals rather than requiring them all to conform to a certain style of American theater.
It's pure magic. This is the thing I want to do.
"UCI doesn't produce cookie-cutter stage managers," Elliott says. "They meet you where you are and encourage you to explore your practice in whatever way is useful to you, so you can become the best stage manager you can be."
Initially, this newfound freedom presented a challenge for Elliott.
"The first year of an M.F.A. program is so unlike any other schooling you've done," Elliott says. "Having the institutional support that enables you to take risks and learn is really exciting. But it's very do-it-yourself, so you have to self-motivate and take initiative in ways you've never done in the past."
Ultimately, that self-empowerment was exactly what Elliott needed to make the series of decisions that led to working on productions in New York.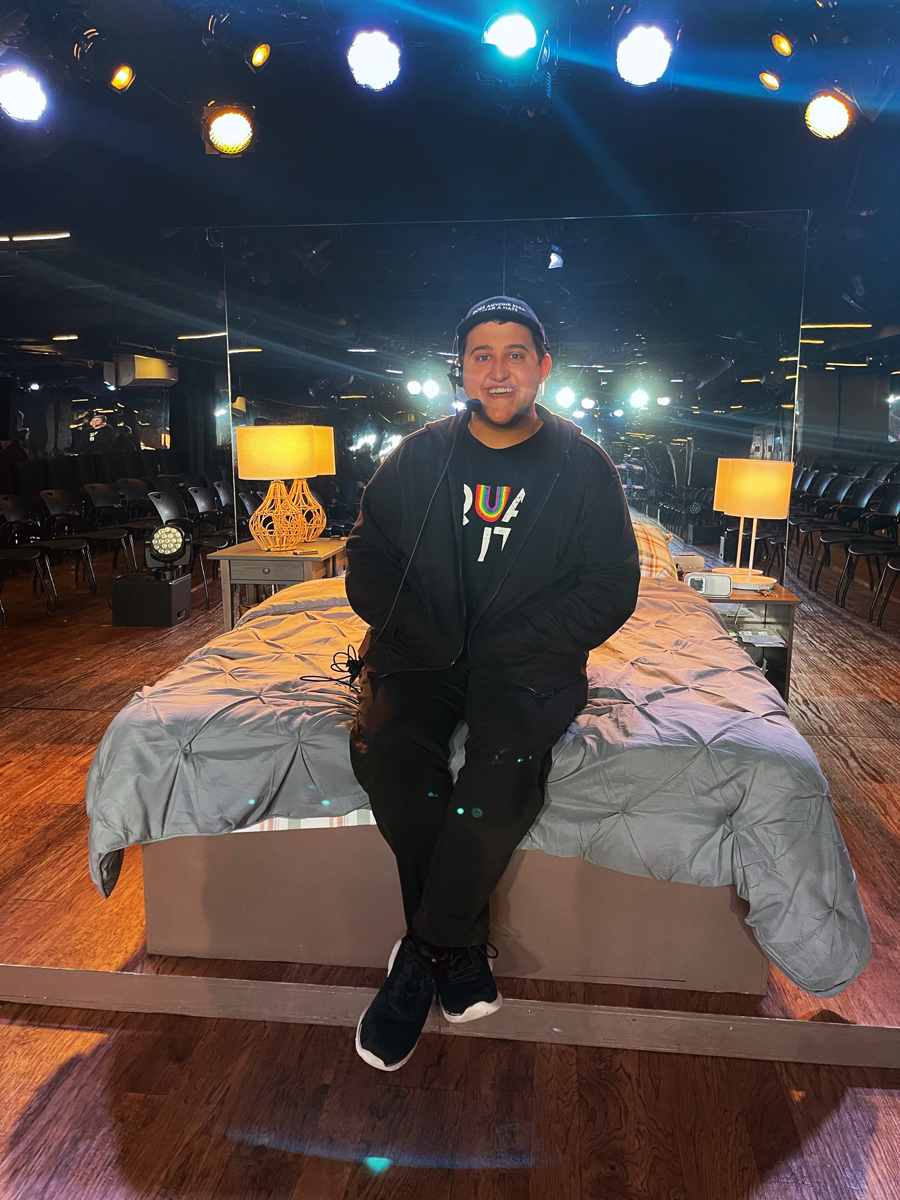 Image (left): Elliott sits on the set for the bandaged place, where xe worked as a production assistant. (Photo: Courtesy of Blake Elliott)
Medici Support
For the summer after Elliott's first year at UCI, xe was invited to serve as the production stage manager for a project with iTheatrics and Disney Theatrical Group, where xe had interned as an undergrad. Elliott was able to seize that opportunity thanks to a Claire Trevor School of the Arts Medici Scholarship, in which donors fund art student projects to help them reach their creative and professional goals.
"It would have been really challenging – borderline impossible – to fly to New York, pay for housing all summer, and do this project without the Medici Scholarship," Elliott says. "It opened this huge door, allowing me to do the thing I was most interested in, which was to be a production stage manager."
Elliott worked on four Disney and Music Theatre International musicals that summer, with a cast of children and teens being filmed for "show kits" to be distributed to thousands of schools and community theater troupes across the country. For Elliott, it was gratifying to work on a tool that will help small theaters across the country put on popular titles like Mean Girls and Finding Nemo. But working with talented aspiring actors was one of the highlights of the project.
"So many of these kids have the same dream I do. They were coming to New York City for the first time, singing and dancing on a Broadway stage, being recorded and immortalized in these show kits that will go out and inspire hundreds of thousands of more kids," Elliott says.  
Before the summer came to an end, Elliott was invited by a friend to sit in the booth with the stage manager calling cues during a Broadway show. Of course, Elliott said yes. The stage manager and Elliott hit it off instantly, and by the end of the show, she had offered Elliott a job as a production assistant at the Roundabout Theatre Company.
It would have been really challenging – borderline impossible – to fly to New York, pay for housing all summer, and do this project without the Medici Scholarship.
Elliott stayed in New York for fall 2022, working on the off-Broadway show the bandaged place, for Roundabout, a nonprofit theater company that owns several performance venues in the city. The work experience and the connections forged here will likely prove fruitful for years to come.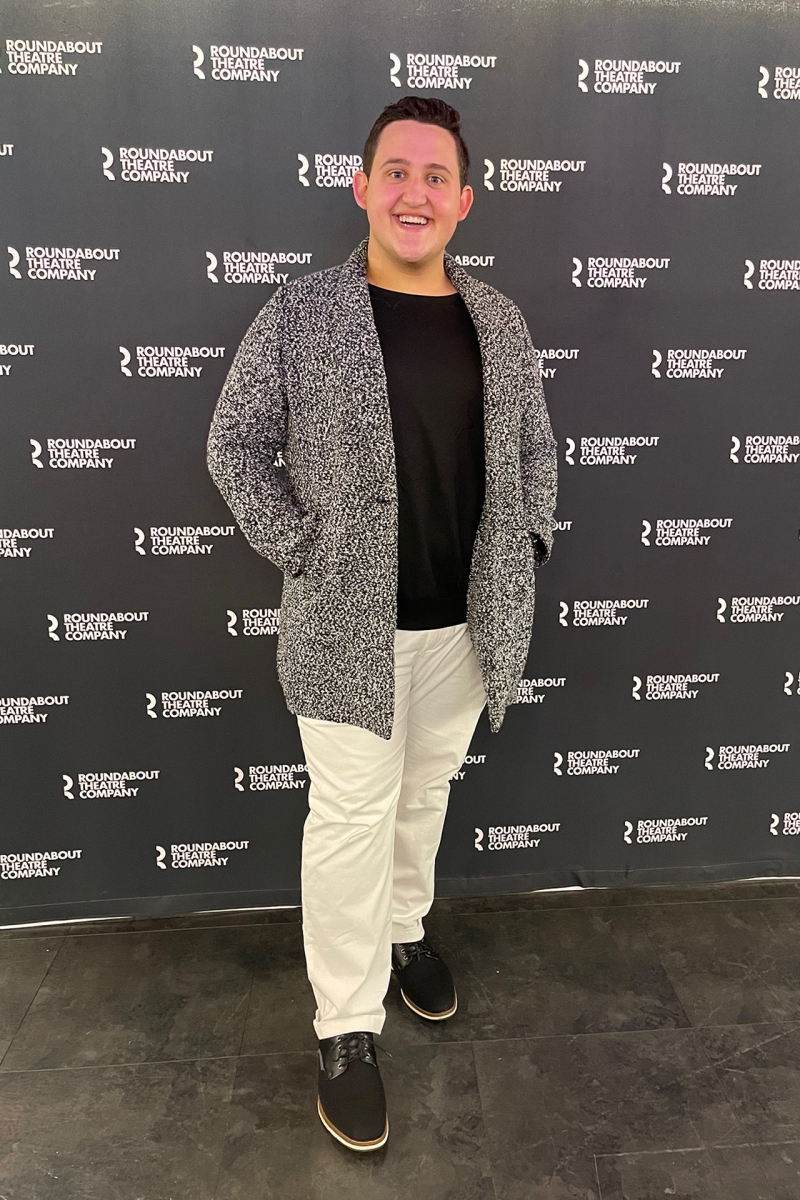 Image (left): Elliott on opening night.(Photo: Courtesy of Blake Elliott)
"The theater world is microscopic, and it feels impossible to break into it, until you're actually here doing it," Elliott says.
Elliott says the experience of working with professionals who are successful and creative but "not precious" about their work, will influence the remainder of xyr time at UCI.
"I truly believe we can change the world with great stories, but it's refreshing to be reminded that, at the end of the day, we're playing pretend," Elliott says. "I'm going to try to hold on to that back at UCI: always be grounded in the fun and the love of theater."
Back at UCI, Elliott also aims to refocus on anti-oppressive and anti-racist theater practices.
"The most important thing to me in my creative work and professional life right now is trying to cultivate an anti-racist artistic ethos," Elliott says. "I think UCI is a good place to do that because of how much power you're given as an individual artist."
That individual freedom, along with Elliott's passionate artistry and, now, real-world experience working in New York City, will be an unstoppable combination.
"Blake Elliott is truly a Renaissance person. With unending curiosity, Blake can look at any project and make the rest of us see it in so many different levels and possibilities," says Don Hill, chair of the drama department. "I see Blake having a major impact on American theater."
Always be grounded in the fun and the love of theater.
---
To learn more about the various programs and student opportunities, visit drama.arts.uci.edu.
Please visit our secure direct giving page and make a gift to Drama today!
CONNECT - Winter 2023